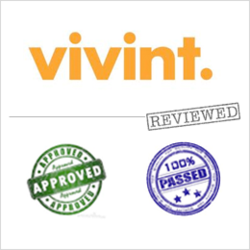 Vivint is a fast growing company that requires our experts to keep track of the latest information that Vivint releases. We constantly focus on keeping the information in our Vivint review as accurate as possible.
Boston, MA (PRWEB) March 30, 2013
AlarmSystemReport.com's home security consultants have created a new set of mid-year home alarm system reviews, and one of the highlights is Vivint Security. The company is regarded to be one of the fastest growing top home alarm systems. Based in Provo, Utah, Vivint strives to be the largest home automation provider in North America despite being relatively young in the business. By 2010, it is one of the leading security installation and monitoring companies in the country. Vivint maintains its own monitoring station, which gives the company more control in the monitoring quality as opposed to security companies that contract third party operated stations. Vivint Security pursues to be the best not only in the field of wireless home alarm systems, but also in home automation. Experts at AlarmSystemReport.com believe that the company is right on track as the home automation market is growing in popularity.
According to AlarmSystemReport.com's Vivint Security review, the company garnered a good score in most of the standards used for security system reviews. When it comes to equipment Vivint uses the most advanced wireless home security components. Every Vivint system has the Go!Control panel, which perform all crucial activities including time-base alerts as well as security and automation device management.
The company's automation devices are the envy of others in the business. Some of the exciting and convenient features of Vivint security and home automation system include remote control of lights, temperature and appliances, as well as live video streaming via smartphones, tablets and laptops. Vivint hope to bring not only an easy and convenient security system but also a responsive one to every home in America.
As evidence of the company's objective to provide energy management solutions, Vivint has some security devices that can run on solar electricity. AlarmSystemReport.com notes that because the company has some of the most sophisticated equipment in the market, it constantly upgrades its technical support capabilities. Vivint has still kept something traditional about their services as they offer professional installation as opposed to the more modern DIY alarm systems.
Jack Truman, security consultant at AlarmSystemReport.com stated "Vivint is a company of the future. It works well with people who desire not only a safe and secured house, but also a smart home environment that raises the quality of living."
Vivint's and other home alarm system company reviews can be accessed for free at AlarmSystemReport.com
About AlarmSystemReport.com
AlarmSystemReport.com is a research and educational company designed to target home alarm system consumers. The website publishes reviews and annual ranking of leading home security providers and their systems. Experts working at AlarmSystemReport.com frequently generate updates on these reviews and rankings so that prospective consumers can make complete comparisons home alarm system providers.
# # #