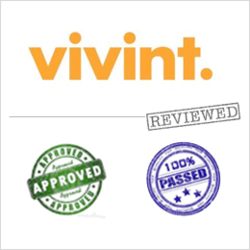 Vivint has really huge strides in 2013. Our experts are excited with the company's latest technology and home automation systems.
Salt Lake City, UT (PRWEB) March 22, 2013
The home alarm system review and security experts at Alarm System Report announced earlier today that Vivint Security has earned a place among this year's top alarm system providers. 2013 is the second consecutive year in which Vivint has ranked among the top 5 home alarm systems companies in the annual Alarm System Report web site best alarm system rankings.
Alarm System Report reviews home alarm system equipment and monitoring providers on a yearly basis. The review process is managed by independently contracted experts who are all home security specialists and consultants with a significant amount of alarm and security industry experience. The company's reviews are conducted on an ongoing basis and are updated with time sensitive information, the most current pricing information, and other pertinent details (such as new equipment and monitoring service plans).
Consultants and analysts who participate in the research and review process spend five to six weeks for each company verifying and fact checking the information they provide, researching the technology and equipment they use, reviewing customer service and Better Business Bureau rankings, and collecting as much third party information as possible about the quality of service and overall customer satisfaction.
Once each review team has finished collecting information and confirmed the accuracy of a company's review profile, a panel of reviewers from AlarmSystemReport.com rates each alarm company according to metrics developed by the industry experts. While the metrics vary slightly from year to year, they always include such variables as overall value, equipment and monitoring service reliability, quality of customer service and technical support, affordability and pricing information, equipment warranties, and technological innovation and availability.
In this year's review, Vivint was cited was its technologically innovative equipment, its advanced home automation system, its highly knowledgeable and helpful technical support team, its use of the most recent wireless and cellular technologies for remote access, and its overall price for the premium features it offers. Reviewers also noted Vivint's easy to install DIY home alarm system offering.
"Vivint doesn't always have the cheapest prices, which might rule the company out for some especially cost conscious customers, but for anyone who's interested in technology and looking for serious value for their money, then Vivint's home security, home alarm, and home automation systems are an absolutely great buy," said Steve Ordona, public relations chief for Alarm System Report. "Without a doubt, Vivint is a leader in technological innovation, and that's one of the things their most loyal and supportive customers always mention in surveys and interviews."
Alarm system shoppers can read the complete Vivint review at AlarmSystemReport.com. Additionally, the web site publishes a wide variety of alarm system reviews on all of the nation's leading home security and alarm system providers, including Protect America, FrontPoint Security, ADT, and LifeShield Home Security. In addition to each company's individual review, readers can access tips and recommendations from industry experts and rankings for the best overall alarm system and best wireless, do it yourself, home automation, and cellular alarm systems and service offerings.
About AlarmSystemReport.com
AlarmSystemReport.com maintains a high traffic consumer review web site that offers nationally recognized reviews and consumer recommendations on all of the country's leading home alarm system retailers and monitoring service providers.
###