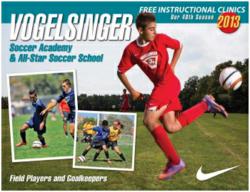 There are five basic fundamental techniques in the game of soccer.
San Rafael, CA (PRWEB) March 07, 2013
The Vogelsinger method of teaching guides players through step-by-step instruction and participation activities designed to improve each individual's basic fundamental technical skills of the game. The clinics provide a fun-filled soccer environment helping players achieve their goals with encouragement, enthusiasm and understanding aimed at promoting self-confidence in each individual. They also serve as an introduction to the longer summer soccer camp programs.
"There are five basic fundamental techniques in the game of soccer. We teach our players by dissecting each technique and its importance," says Clinic Director Doug Parra. "Ball Control, without exception, is the single most important of the five. Why? Without controlling the ball, you can't effectively execute the other skills of Dribbling, Passing, Striking or Heading. It is crucial for us to make sure we educate each player through explanation, demonstration and participation. This will help the player to maximize and fully enjoy their game."
Come and join the Vogelsinger staff in their step-by-step approach to achieving your soccer goals.
Saturday, March 9: 1-3PM
Francis Parker School, San Diego, CA
Tuesday, March 12: 5:30-7PM
Valadez Middle School, Placentia, CA
Friday, March 15: 4-6PM
Addison-Penzak Jewish Community Center, Los Gatos, CA
Saturday, April 27: 1-3PM
The Brooks School, North Andover, MA
Sunday, April 28: 8:30-11:30AM
Andover High School turf field, Andover, MA
The Vogelsinger Soccer Academy sets the standard for excellence in soccer education. Founded by the extraordinary coach and teacher Hubert Vogelsinger in 1965, the Academy offers a unique, dynamic soccer environment in which players master the mental, physical and technical skills of the game. Our precise step-by-step teaching methods create a crystal clear picture of each skill through explanation, demonstration and participation. When students master the mental skill of visualization, they ultimately generate a self-role model for perfecting each physical skill. As the 'mind's eye' sees every detail of correct technical positioning, what the mind conceives the body can then achieve. Our international professional staff guides each player to acquire the technical mastery and mental focus that equal success in the game of soccer.
The Vogelsinger Soccer Academy enters its 48th summer operating outstanding soccer training for young players aged 8-18. Located at four locations across the United States, the soccer schools take place on college and prep school campuses where students are housed in the dorms and play on the outstanding facilities these schools have to offer.
VOGELSINGER SOCCER ACADEMY LOCATIONS
— University of California, Santa Barbara, CA
— The Lawrenceville School, Lawrenceville, NJ
— Carthage College, Kenosha, WI
— The Brooks School, North Andover, MA
About US Sports Camps
US Sports Camps (USSC), headquartered in San Rafael, California, is America's largest sports camp network and the licensed operator of NIKE Sports Camps. The company was started in 1975 with the same mission that defines it today: to shape a lifelong enjoyment of athletics through high quality sports education and skill enhancement.
Contact: Vogelsinger Soccer Academy (vogelsinger(at)ussportscamps(dot)com) 1-888-780-CAMP