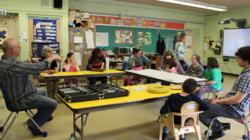 We are looking forward to working with ECLC on a long-term basis. Our goal is to utilize technology for efficiency, fun and data tracking for better results
Somerset, New Jersey (PRWEB) May 04, 2013
ECLC of New Jersey has been using WebTeam's COLORS Program and iLearnNEarn Series of Apps for Autism for the last 2 years as part of their technology-driven initiative to educate students on the spectrum. For about 15 minutes every day, teachers are using the iLearnNEarn program in the classroom. Soon they will be getting more iPads in the classrooms, according to Russ Fay, classroom teacher at ECLC.
"We have been sharing a mutually beneficial relationship with ECLC for quite some time now. The beauty of our program is that ECLC will be able to use their expertise and their resources to deliver individualized education in the classroom in a synchronized way," said Nish Parikh, CEO of WebTeam Corporation.
Customizable background music will be a major addition in the routine app as well as in the other apps to be developed later. In-house music teacher Steve Palmieri is composing music for the scheduling app for autism. The good news is that ECLC students are taking an active interest in composing the tracks that will later be included in the program.
Reports published by the Centers for Disease Control and Prevention in Autism Awareness Month present a grim picture. Currently 1 in every 50 children in the United States is diagnosed with autism. Reportedly, there has been a 73% increase in the number of cases since 2008.
"Students who are battling autism will help other children lead a reasonably independent life. Such collaboration can only improve the quality of overall education in a school setting. We are looking forward to working with ECLC on a long-term basis. Our goal is to utilize technology for efficiency, fun and data tracking for better results," Parikh said.
About ECLC
Founded in 1970, ECLC of New Jersey offers lifelong services, starting with education for children with special needs, ages 5-21, through jobs and day/evening programs for adults, including those with autism, Down syndrome and severe learning and/or language disabilities.
ECLC's two schools, in Chatham and Ho-Ho-Kus, educate more than 300 children with special needs. As students prepare to graduate, ECLC's affiliate, Community Personnel Services (CPS), takes over, guiding them into the next chapter of their young lives. CPS's employment specialists help them find jobs in their communities and provide ongoing support and advocacy in the workplace.
ECLC graduates who are not ready for jobs are guaranteed a spot in the P.R.I.D.E. program. In the P.R.I.D.E. program, adult clients enhance their daily living skills, socialize with peers and volunteer in the community. Recently, a new P.R.I.D.E. Center opened in Paramus specifically for students graduating from the Ho-Ho-Kus school.
Meanwhile, the ECLC Foundation supplements funding for all entities and supports afterschool activities, respite weekends (overnights), alumni programs, adult services and capital projects. Learn more about ECLC at http://www.eclcofnj.org. ECLC is a member of the Alliance of Private Special Education Schools of North Jersey, a coalition of more than 30 state-approved private special education schools in Northern and Central New Jersey dedicated to helping parents and educators better understand and access appropriate program options in special education. Learn more about the Alliance at http://specialeducationalliancenj.org.
About WebTeam Corporation
Housed in Somerset, New Jersey, WebTeam Corporation is an app development organization working with parents, educators and experts involved with the autism community globally. The journey of WebTeam began in 2007 when 4 children aged 7-13 were given a summer assignment by parents to create animated characters whose goal was to establish peace, harmony and happiness in the universe. Following the success of the after-school program, S.H.A.N.E.S.H. came into existence, marking the beginning of a remarkable journey that witnessed independent ventures as well as expert collaborations, resulting in development of 150+ apps for Android, NOOK and iOS marketplaces. The S.H.A.N.E.S.H. approach applied to special needs education gave birth to Colors Program which was pilot run at a few schools in the NJ and NY area.