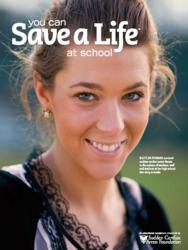 Unfortunately, the vast majority of student-athlete deaths are due to sudden cardiac arrest, yet SCA is potentially a survivable event.
Pittsburgh, PA (PRWEB) February 13, 2013
What do Tristan White, 17, of Dillon, CO, Hannah Patrie, 15, of East Windsor, CT, and Spencer Melvin, 9, of Woodland, CA, have in common? They are among the untold numbers of student-athletes who died last year from sudden cardiac arrest (SCA).*
In an effort to improve appropriate medical care for young athletes, the National Athletic Trainers' Association (NATA) last week hosted the fourth annual Youth Sports Safety Summit in Washington, DC, and launch of the National Action Plan for Sports Safety. They began the Summit with a moment of silence for young victims of sudden death and their families.
David Belkin, Esq., of Bethesda, MD, a member of the Sudden Cardiac Arrest Foundation Board of Directors, was among the delegates. "The Sudden Cardiac Arrest Foundation is proud to be a member of the Youth Sports Safety Alliance and honored to have participated in the Summit," said Belkin.
The Alliance, comprising nearly 100 organizations, is committed to prevent catastrophic injury and illness in young athletes. The program culminated with visits to legislators on Capitol Hill.
"The National Action Plan is a necessary next step to ensure that the Alliance's messages of sports safety are communicated at the national, state and local levels," said NATA President Jim Thornton, MA, ATC, CES. "It's not just about football and concussion. Kids suffer catastrophic injuries and death from other sports and other injuries."
Among other things, the Plan calls for requirements that properly maintained automated external defibrillators (AEDs) be easily and immediately accessible in all venues of practice or competition with a designated person(s) trained in their use, and requirements that coaches and athletic officials be trained in CPR and use of AEDs.
Sudden cardiac arrest is the leading cause of death among young athletes, according to an "In Memoriam" document presented by NATA, which indicated there were at least 34 deaths among student-athletes aged 9 to 18 years old in 2012 and 74% of these deaths were due to SCA or suspected SCA, including one case of commotio cordis, a lethal disruption of the heart rhythm caused by a blow to the chest. The NATA document was based on a sampling of media reports about young athletes who died during practice or competition or in an activity related to sports, and was not intended to be a comprehensive scientific report. The true number is undoubtedly higher, according to NATA.
The American Heart Association, for example, reported in 2012 that there are approximately 10,235 cases of SCA annually in people <18 years of age, including cases that occurred during sports activities. Some experts believe this estimate is high and that fewer than 1,000 youth experience SCA annually. Efforts are underway to develop a registry to track the true incidence—an initiative supported by the Alliance.
"Unfortunately the vast majority of student athlete deaths result from sudden cardiac arrest," said Belkin. "Yet SCA is potentially a survivable event if personnel such as athletic trainers and coaches have been properly trained and if AEDs are readily available in all school and sports venues."
Belkin should know. He experienced SCA in 2007 when playing basketball at an elementary school in Honesdale, PA. He was resuscitated thanks to the quick actions of fellow players and use of the school's AED.
Sudden Cardiac Arrest Foundation's educational materials related to SCA in youth were distributed at the Summit. For more information and helpful tips, visit You Can Save a Life at School and You Can Save a Life on Campus.
To read the National Action Plan and the Secondary School Student Athlete's Bill of Rights, click here.
*Based on an In Memoriam document distributed by the National Athletic Trainers Association on at the Youth Sports Safety Summit, February 5, 2013.
About the Sudden Cardiac Arrest Foundation
The Sudden Cardiac Arrest Foundation is a national community benefit 501(c)(3) organization dedicated to raising awareness about sudden cardiac arrest and saving lives. The Foundation is the home of the SCA Survivor Network, an online community that provides peer support and opportunities for survivors to "pay it forward" and help save other lives. The Foundation maintains a national database of survivors and experts available to speak with the media.