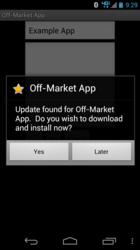 Update Direct embeds an automatic update feature into off-market Android apps.
(PRWEB) March 06, 2013
Pocket Soft, the maker of RTPatch, has recently launched its new Android Developer tool, Update Direct. The tool is designed to supplement off-market distribution by providing automatic, secure and efficient updating capabilities.
Android's open distribution policy allows developers to distribute apps via the Google Play marketplace, other marketplaces or directly to their end-users, i.e., off-market. Google Play distributes both apps and any subsequent fixes and updates. However, when off-market distribution is chosen, the developer is responsible to provide needed fixes and other updates.
Update Direct allows developers to embed self-updating capabilities into their privately distributed off-market apps. Updates may be distributed via any standard http/https server. End-users automatically check for updates at intervals specified by the developer.
"Because professional Android developers can legally distribute their apps directly to end-users, they're free to innovate without Google's permission or interference," says Kerry Jones, CTO of Pocket Soft. "Google Play does offer a private channel to enterprise developers, but it restricts end-users and developers to the same, single domain. Use of Update Direct is unrestricted."
Secure
Update Direct utilizes industry standard 2048-bit RSA encryption to safeguard apps and data. Automatic byte-level updates, useless without the original installation, add an additional layer of security to the update process. Update Direct allows authentication of devices for secure removal of devices.
Advanced Features Mean Faster Time to Market
Update Direct automatically generates the Java code necessary to enable self-updating updates into an off-market app, minimizing the amount of coding required by the developer. The code is customizable based on settings, but rendered automatically. Updates are also automatically generated by the developer and uploaded to the server, created by simply specifying the new updated installation (apk), so no specialized server-side software is required.
Update Direct automatically creates the update files, byte-level differences, etc., which are then hosted on a standard http/https site. Once the update server is set up, subsequent update publications are simple, since all Update Direct developer tools can be scripted into the build environment for unattended publishing of new updates.
Cuts End-User Costs
Update Direct automatically updates apps with only the changed bytes, typically reducing the size of the update by over 90%.
"This reduces network congestion at the server, and end-user data plan costs. As the trend moves away from unlimited data plans to shared/tiered plans, the use of byte-level updates provides immediate and noticeable cost savings to end-users," says Jones.
Update Direct is a product of Pocket Soft, Inc., the maker of RTPatch, which has provided software updating to major corporations and government agencies since 1991. RTPatch supports all major operating systems for servers, desktop, mobile and embedded systems.
Contact
Tony Olivero
olivero(at)pocketsoft(dot)com
office: +1 713-460-5600 x213
mobile: +1 713-408-8086
http://www.pocketsoft.com