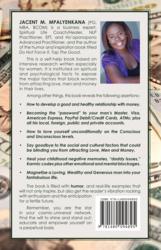 "Whoever you think you are, you are more than that." Dr. Maathew B. James - Empowerment Partnership.
Los Angeles, CA (PRWEB) March 30, 2013
Love, Men, and Money includes detailed discussions and healing exercises based on proven techniques such as the Emotional Freedom Technique (EFT), Neuro-linguistic Programming and Ho'oponopono (a Hawaiian ancient Healing Technique), with intent to assist women in their healing, and self-empowerment expeditions, and then program themselves into Love, Men, and Money magnet.
The Emotional Freedom Technique (EFT), one of the major techniques that the author employs in the healing exercises, works through several meridian points positioned on the body-as discovered by the founders of acupuncture over 5000 years. By tapping on these points, one is able to free him/herself from any blockages, and the root causes-that could be overcrowding them from -attracting Love, Men, and Money. Neuro-linguistic Programming is a technique that helps people think, communicate and plan better. Ho'oponopono on the other hand, is a spiritual practice that works by directing one's conscious mind to request his/her unconscious mind to clean up any emotional baggage that has been stored in the form of data and/or information in the unconscious-bank-from which experience is retrieved.
Jacent M Mpalyenkana, the author of Love, Men, and Money, is Spiritual Empowerment Coach, an Advanced Emotional Freedom Technique, Neuro-linguistic Programmer, and Ho'oponopono Practitioner. She is also a business expert with a Post Graduate Diploma in Negotiations, a first class Masters' degree in Business Administration and Bachelors' degree in Commerce.