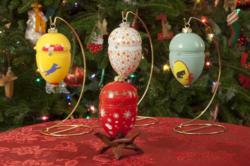 When people look at their Urnament, they are drawn to where the happy memories of their loved one reside.
Glen Rock, NJ (PRWEB) April 30, 2013
On May 6th, Urnaments LLC will celebrate their One Year Anniversary with a 50% price reduction of all online stock of both Urnaments and Pet Urnaments.
"And what a year it's been," says Mike Martino, Founder and President of Urnaments LLC. "Our learning curve over the past twelve months has been more like a crash course in business management, marketing, trade show strategies, website development and distribution analysis. Some things, we would have done differently; others I would not change one iota."
Urnaments are certainly sailing through uncharted waters, the concept both ingenious and unsettling, depending on who you talk to. "I now see that my invention is all in the eye of the beholder. I've been praised as both an innovator and a morbid huckster. One day I'm auditioning for Sharktank (did not make final cut but was asked to reapply this year)......'The next, I'm being politely asked to leave a veterinarian's office."
Moving forward, the company is planning to lower its online pricing while also allowing their national and international vendors to set their own price points. "The best piece of advice I've gotten this past year was the one I didn't listen to. I am now.
"I designed my invention. I went overseas to have them manufactured. I studied shipping and customs and learned how to import. I thought selling them would be the easy part. But as a wise old entrepreneur who traveled this road before me said, 'Mike, you've got to decide who you are. Manufacturer? Retailer? Wholesaler? So, now I am making the necessary adjustments to address these issues."
Starting this summer, Urnaments LLC will incentivize its best vendors, allowing them to decide where their future markets are while also profiting more from each sale they bring in.
Urnaments LLC was founded by Michael C. Martino in 2010. All engineering, prototyping and designing was completed in November, 2011 and the First Edition Urnaments and Pet Urnaments were put on sale in May of 2012. Urnaments are technically known as keepsake urns and will hold up to seven inches of a person's or pet's ashes. By matching their decorative appeal with an eyelet at the top, Urnaments and Pet Urnaments can be displayed on a Christmas tree or anywhere else in the home.
For more Information, please go to http://www.urnaments.com.