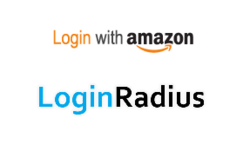 With this partnership, websites can leverage authentication via Amazon on the LoginRadius platform.
Edmonton, AB (PRWEB) June 05, 2013
LoginRadius, a global leader in Social Login, today announced the integration of 'Login with Amazon' on its social solution platform. LoginRadius now offers Social Login with 29 ID providers, and as a global service, not only supports international social networks but provides interfaces in foreign languages and offers 24/7 technical support to paying customers.
"The integration of 'Login with Amazon' on the LoginRadius platform is very important for our e-commerce customers," said Rakesh Soni, co-founder and CEO of LoginRadius. "Amazon has a large user base of shoppers and is one of the most trusted names in the e-commerce space. Integrating Amazon as an ID provider will improve the average user's online shopping experience and impact online sales. I see it becoming an essential aspect of authentication for online stores in the coming years."
Presently, LoginRadius supports 5 major e-commerce platforms: Magento, PrestaShop, OScommerce, ZenCart, and X-Cart. E-commerce websites use LoginRadius to increase user engagement via Social Login, capture social profile data, increase referral traffic via social sharing, and understand their customer base with Social Analytics and a customized user dashboard.
"With this partnership, websites can leverage authentication via Amazon on the LoginRadius platform. Our existing customers can add 'Login with Amazon' with one click by selecting it in their LoginRadius account. It's really quite simple!" said Deepak Gupta, co-founder and CTO of LoginRadius. "With LoginRadius' unified social API, we have made it possible to add new ID providers quickly so that website owners can manage social identities efficiently without worrying about maintenance."
"Login with Amazon" can also be integrated on non-ecommerce sites through LoginRadius' 7 CMS plugins for WordPress, Joomla, Drupal, vBulletin, DotNetNuke, Vanilla Forums, and BlogEngine or through their 8 programming SDKs for PHP, Java, Ruby, ASP.NET, HTML5, Python, Node JS, and Classic ASP.
About LoginRadius
LoginRadius is a Canadian startup that provides social infrastructure to businesses. Their products help companies boost user engagement, increase their user base, manage online identities, capture consumer data, utilize social media for marketing purposes, and analyze consumer behavior via social analytics. The services are delivered via LoginRadius' unified social API.
The company was founded in mid-2011 in Canada, and the product was officially launched in October 2011. Since then, LoginRadius has grown to over 50,000 customers worldwide and its social widgets are reaching 10 million users every month. It is also among Canada's Top 100 Startups by TechVibes, a leading Canadian technology news website.
LoginRadius Contact:
Dianna Hu, Public Relations
Email: dianna(at)loginradius(dot)com
Ph: +1-780-640-1711