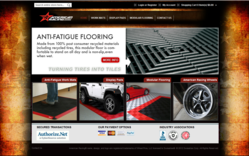 We are confident that customers will recognize the performance and quality of the American Racing brand.
-Randy Nelson, President of Swisstrax
Indio, CA (PRWEB) January 10, 2013
Swisstrax Corp., an Indio, California based manufacturer and distributor of modular interlocking flooring, announced today that it has entered into a licensing agreement with American Racing Custom Wheels to develop and launch a new line of American Racing branded garage floors.
The American Racing line will be available for purchase soon through Swisstrax directly at swisstrax.com as well as home improvement, hardware, specialty automotive, and other specialty retailers. "Swisstrax is thrilled to bring licensed American Racing garage flooring to the retail marketplace. We are confident that customers will recognize the performance and quality of the American Racing brand," stated Randy Nelson, President of Swisstrax Corp. "We look forward to our partnership with American Racing and to expanding the American Racing brand to the premium flooring market."
The garage floor tiles are anti-slip, easy to clean and resistant to most chemicals and automotive liquids. The locking design makes a quick and easy DIY installation. The tiles come in various popular colors, allowing creativity with personalized designs. Included in the program's initial launch are pre-designed kits for various applications, from work mats to pads large enough to accommodate parking two vehicles on them. The modular, snap-together tiles are backed by laboratory testing for weight and pressure capacities, anti-slip and abrasion resistance.
About American Racing
American Racing American Racing Equipment has been designing and crafting cutting-edge, high strength-to-weight ratio racing wheels since the mid-50's. That was the golden age of hot rodding, and the interest in American Racing wheels like the legendary Torq-Thrust was just as overwhelming then, as it is today. The American Racing lineup is made up of unique and stylish street wheels that fit just about any style of vehicle. You can find an American Racing wheel to match your ride! - (Sited from jegs.com)
About Swisstrax
Swisstrax offers a practical and modern alternative to standard concrete and epoxy garage flooring. The product line, which was first developed in Switzerland over 19 years, was relocated in 2003 to Southern California; for both manufacturing and distribution. Swisstrax distinctive modular flooring has become the flooring of choice for a variety of automobile manufacturers, race teams and retailers.