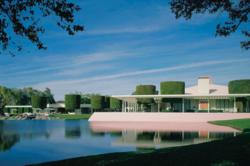 Based on the enormous enthusiasm we have seen for months in advance, early indications are that Palm Springs Modernism Week 2013 will bigger and better than ever
Palm Springs, CA (PRWEB) January 02, 2013
Palm Springs Modernism Week, happening February 14- 24, 2013, is poised to surpass previous attendance levels. Modernism Week events will take place in various locations throughout Palm Springs and other desert cities. Modernism was a popular design aesthetic, originating in the 1950s and 60s, which typified clean, simple lines and celebrated elegant informality, and which came to define desert modernism as a sought-after architectural genre.
Modernism Week is one of the country's most popular annual events for architects, modernism aficionados, art and design style mavens, mid-century modern culture hounds, and retro fun fanatics. Over the last several years, attendance has grown to an estimated 35,000 people in 2012.
"Based on the enormous enthusiasm we have seen for months in advance, early indications are that 2013 will be bigger and better than ever," says Jacques Caussin, Board Chairman of Modernism Week. "As early as this past summer, our loyal fans began requesting information about the exciting new events that we've scheduled, and we think returning attendees and new visitors alike will be very impressed with the lineup."
The 11-day extravaganza will feature more than 100 events, including the Modernism Show (Feb 15-18) at the Palm Springs Convention Center. For a complete list of events and to purchase tickets, visit http://www.modernismweek.com. The following is a glimpse of some of the highlights and additions for 2013:
NEW FOR 2013:
Modernism Week's Hospitality Lounge
All days: Hilton Hotel, 400 E. Tahquitz Canyon Way, Palm Springs
Just inside the main entrance to the Hilton Hotel attendees will find our Hospitality Lounge, offering information and ticket sales (by credit card) which will be open daily from 8AM to 4PM. This is also the Media Check in center. Attendees can also visit the MODSHOP at the Raymond-Lawrence Gallery in the Uptown Design District for a variety of private-label and branded Modernism Week items and exclusive products.
Modernism Week PreFab Showcase & Modern Living Expo
10 am - 5 pm all days: Parking lot on N. Calle El Segundo between Tahquitz Canyon Way and E. Andreas Road, Palm Springs
The Modernism Week PreFab Showcase will be expanded to include several prefab structures that combine world-class architecture with green, eco-friendly, and sustainable construction. A new component of the PreFab Showcase is the Modern Living Expo, which will feature exhibitors displaying smart living ideas in a thoroughly unique environment.
The Modern Living Expo will take place over two weekends, February 16-19 and February 22-24, and will present the best in cutting-edge modern home design and everyday living. The Expo will include smart home technology, green living, and the most beautiful ideas available in finishes and furnishings, with a focus on the modern home.
Pan Am Exhibition
All days: Saguaro Hotel, 1800 E. Palm Canyon Drive, Palm Springs
A colorful exhibition of memorabilia, uniforms, and nostalgic items from the now-defunct, iconic airline.
Marrakesh Country Club Designer Showcase
February 14th and continuing throughout the remainder of Modernism Week: Tour begins at the parking structure at the Gardens on El Paseo. Buses leave for Marrakesh Country Club every 15 minutes beginning at 10:45 AM.
The tour includes four Hollywood Regency homes with distinctive features including Pullman entries, mansard roofs, private courtyards, and back terraces. Experience the ultimate marriage of midcentury architecture and modern creativity, as some of California's top interior designers reinterpret these classic homes.
Fashion Forward: A Vintage Clothing Retrospective
Sunday, February 17, 2013 at 5 pm: Hilton Hotel, Horizon Ballroom, 400 E. Tahquitz Canyon Way, Palm Springs
William Miller and Déjà Vu Vintage Finery present a fully accessorized, highly stylized fashion show featuring the glamorous trends of yesteryear. The runway will come alive with glimpses into the post-World War II era of Dior's "New Look." From the swinging, mini-skirted and shift-dressed 1960s, to the sit-in, bell-bottomed, independent movement of the 1970s, and even the shoulder-padded, belted, over-the-top 1980s fashions, these three decades of fashion will delight.
The Bad and the Beautiful: Film Costumes of the Silver Screen Fashion Show
Wednesday February 20, 2013 at 11 am: Temple Isaiah, 332 W. Alejo Road, Palm Springs
The Palm Springs Historical Society presents a fashion show featuring a rare and unique look into the world of film costume design of the Golden Age of Hollywood, from the late 1920s through the early 1960s. A light brunch, champagne, coffee, and tea will be served. As a special treat, Bill Marx, son of the legendary Harpo Marx, will provide piano accompaniment.
Temple Isaiah is also offering tours of E. Stewart Williams' 1952 hidden gem – their original sanctuary – plus a striking art display of the work of renowned Israeli artist Yaacov Agam, and a rare collection of photos and memorabilia.
"A Mad Men Evening"
Thursday, February 21, 2013 at 7 pm: Palm Springs Art Museum's Architecture and Design Center, Edwards Harris Pavilion, 300 S. Palm Canyon Drive, Palm Springs
The Architecture & Design Council's most unique and entertaining event featuring the 1960s retro glam theme of Mad Men, the hit AMC television series. This event will be held at the Palm Springs Art Museum's Architecture and Design Center, Edwards Harris Pavilion, the site of Mad Men actor Jon Hamm's photo shoot for GQ Magazine. Guests are encouraged to use their creative and retro-adventurous inspiration for cocktail attire.
OTHER HIGHLIGHTS:
Modernism Week Opening Night Cocktail Party
Thursday, February 14, 2013 7-10 pm: Twin Palms Estate, 1148 Alejo Road, Palm Springs
Immediately following the opening ceremony and reception for "Illuminated Modern" – (which showcases significant midcentury modern buildings located along Palm Canyon Drive with special illumination for the entire 11 nights of Modernism Week), the Modernism Week fun begins in earnest at Frank Sinatra's famed historic Twin Palms Estate. This historic house was originally designed by E. Stewart Williams in 1947 for Sinatra and his first wife, Nancy Barbato. Sinatra later lived here with his next wife, the tempestuous Ava Gardner. A truly perfect location for a Modernism Week cocktail party on Valentines Day!
Double Decker Architecture Bus Tours
daily
Tours depart from Hilton Hotel, 400 E. Tahquitz Canyon Way, Palm Springs (Calle Encilia Entrance)
Modernism Week's most popular event will be offered twice daily at 9 a.m. and 1 p.m. – the tours are offered in either a 2-hour or 3-hour open-air (it's Palm Springs!) double-decker bus tours. These fun tours are lead by a knowledgeable guide and offer a fascinating overview of Palm Springs' world-famous mid-century modern architecture, some of the town's notable architects, as well as an entertaining history of Palm Springs' Hollywood history and many celebrities who made it their personal playground.
ABOUT PALM SPRINGS MODERNISM WEEK:
Palm Springs Modernism Week, a non-profit organization that produces the annual festival, is a celebration of mid-century modern design, architecture and culture, and features more than 100 events including home tours, films, lectures, fashion, and swank receptions at locations rarely-seen by the public.
As the only such event in the country when it was launched in 2006, Palm Springs Modernism Week has helped fuel a robust national interest in the preservation and appreciation of modernism. Palm Springs Modernism Week supports local and state preservation organizations in their efforts to preserve modernist architecture throughout the state of California. It also awards annual scholarships to high school students who have selected architecture and design as their career paths.