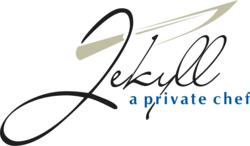 Destin, FL (PRWEB) January 01, 2013
With the holiday season comes a lot of delicious food and celebration, but as the new year rolls in, some might feel like shedding a few holiday pounds. Delicious baked goods, holiday dinners, and all that eggnog can do a number on any diet plan, but with the help of Chef Jekyll, getting back in shape is an easy new year's resolution. This licensed private chef operates throughout the Emerald Coast region, and his 35 years of gourmet cooking experience can help the fitness-minded in a delicious way.
Chef Jekyll works with customers to set up a weekly meal plan, prepared in their home one day a week and designed individually for each person's specific dietary needs or weight loss goals. Healthy eating doesn't have to mean stress for dieters, since Chef Jekyll knows the secrets to wholesome, healthy meals that won't sacrifice flavor. Since these dishes are prepared right in the customer's own kitchen, the service eliminates any need to visit a nutrition center or even go grocery shopping, which certainly cuts out at least two possible sources of stress while keeping a special diet.
The chef says it best: "Healthy eating doesn't have to give you the winter blues. Contact Jekyll -- A Private Chef to set up a weekly meal plan, prepared right in your own home one day a week, and you'll reach your personal goals before you know it."
Carey Stegall, better known as Chef Jekyll, collected a great catalog of culinary styles and dishes during thirty years of service in the Air Force, including German, Italian, Korean and Thai cuisine - and he chooses the healthiest options from these styles to build custom meal plans. No matter what his customers have a taste for, Chef Jekyll has the experience and expertise to prepare their favorites in a way that works with any diet plan.
About the company:
Proprietor and Emerald Coast "native son" Carey Stegall – better known as Chef Jekyll – is a licensed private chef specializing in Local Seafood, Italian, and Southern Comfort cuisines. His clients include private individuals, businesses and families in Destin and throughout the Emerald Coast region of Northwest Florida. Returning to Destin, Florida in 2011 after his career in the military, Chef Jekyll has cultivated the local roots that were planted here 35 years ago among the emerald seas and white sands. Inspired by his travels around the world and residence on three continents, this newly established entrepreneur has honed his culinary skills to a fine edge. For more information, please visit their website at http://www.chefjekyll.com.