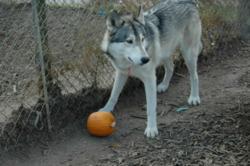 Animals must rely on humans for their needs if they are taken from the wild.
Mayfield Heights, Ohio (PRWEB) January 08, 2013
There are thousands of charities nationwide to combat everything from hunger to poverty to increasing education. Another terrific cause though is the animal rescue and sanctuaries. Rescues and sanctuaries do not euthanize the animals the way a city run animal shelter would do. Their goal is the preservation and survival of the animal. City animal shelters have government funds to run on. Rescues and sanctuaries rely purely on the donations and goodwill of others for the animals to thrive and exist. My Pack of Wolves Sanctuary is just such a rescue and offers terrific reasons to donate for the new year.
1. Donations are tax deductible-
Whatever donations are given can be listed on tax forms and part of the monies will be returned! My Pack of Wolves Sanctuary has a receipt system that is given to its donators, be it money or land or equipment or even time that can be turned into the IRS. Its like giving and getting back at the same time.
2. Money is just one of many ways to give-
Yes rescues rely on money to purchase the most important things such as land,enclosure materials,food,medical supplies,etc. However these items can also be donated in lieu of money! Any donation of food, treats for the animals, old office equipment, an old tractor, raw materials for building, straw, hay, etc. The list goes on and on of the supplies needed
3. You can make a difference-
Anything given to a sanctuary will not go to waste! A dollar, a dime, a bag of food, vitamins, and even dog treats will go directly to the animal and its care. Every item donated is used. What better way to increase self worth and help an animal that cannot take care of itself at the same time
4. Be the leader and encourage others-
Show your friends and family what your donations can do for these animals. Take trips to see them and see directly how your money is spent. See part of a doghouse built, or a new platform for them, or a new water well system working. Or just see the tails wagging in happiness at your appearance
5. Meeting new people and being part of a growing community of helpers-
Sanctuaries and rescues will always need money. It is the nature of the non profit arena. But without volunteers and helpers it also would not be possible to help raise that money. Giving up one day a week to help feed the animals or to be a caretaker for a day will certainly bring new friends and new adventures
http://mypackofwolvessanctuary.org/ is an IRS qualified tax exempt non profit organization dedicated to not only housing and saving these magnificent creatures but using education as well to replace the myths and misunderstandings. My Pack of Wolves Sanctuary also relies on monetary donations and hopes to raise enough money in 2013 for new land and new habitats for the animals! Please follow us on Twitter and Facebook as well as our website to see how to help