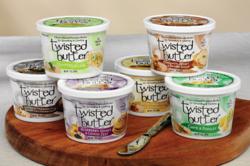 We are honored to be recognized by such an industry-leading magazine
Chicago, Illinois (PRWEB) January 03, 2013
Twisted Butter is pleased to announce that their flavor-infused butter has been nominated as one of the Best New Dairy Products of 2012 by Dairy Foods Magazine. Twisted Butter is overjoyed to have stolen the hearts (and taste buds) of the magazine's panelists. Voters have until midnight on January 15, 2013 and are free to vote more than once for Twisted Butter. Here is the link to vote: http://www.dairyfoods.com/polls/27.
"We are honored to be recognized by such an industry-leading magazine," says Jane Johnson, founder of Twisted Butter. Johnson, who originally showcased the compound butters at her small farmer's market stand "Maggie's Gourmet," transformed the wildly popular butter into a retail market-ready brand in 2011. Since then, the company has grown to distribute the six delectable butter spreads to supermarket stores across the Midwest and Texas, with plans to continue enhancing meals across the country.
About Twisted Butter
Twisted Butter is a gluten-free, spreadable blend of premium AA salted butter, canola oil, and an abundance of fresh fruits, honey, herbs and even crumbled bacon. They are made with all-natural ingredients and come in six delicious flavors: Blueberry, Honey & Lemon Zest; Cinnamon, Honey & Brown Sugar; Cilantro & Lime; Chives & Parsley; Portobello Mushroom with Boursin-Garlic & Fine Herb Cheese; and Bacon, Dijon Mustard & Green Onion. For more information please visit http://www.twistedbutter.com.