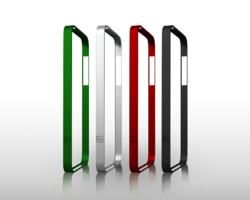 Miami FL (PRWEB) January 02, 2013
The iPhone has been getting sleeker and lighter; so why aren't iPhone cases following the same trend. Miami based start-up, Designed by m answers the question with their first product, AL13, a super thin aluminum bumper that provides protection without changing the look of the iPhone.
AL13 has been launched on funding platform Kickstarter with the hope of securing enough pledges to get it to the market by the end of April 2013.
AL13 is made from aerospace aluminum, an alloy that is resistant to heat and fracture. It has an anodized finish with chamfered edges that perfectly matches the iPhone and a specially designed Smart Glide cover that eliminates the need for screws and tools for installation.
"Our company mandate is to provide products of superior quality and cutting edge design at a price that everyone can afford. I think we got it right with AL13," Mapp said.
"We see Kickstarter as the great equalizer. It gives small companies like us a chance to bring cool products that might not have otherwise seen the light of day, to the market, "Mapp said.
AL13 will be available in three colors- silver, black and red and for a limited time, only on Kickstarter, in a special edition "Believer" green.
###
About designed by m
Based in Miami, designed by m was founded by Lester Mapp to fulfill the needs of the creative class. Its product offerings encompass a wide array of intelligent designs made with high-quality materials at smart prices.
Media Contact Elvis Anderson
elvis@circleofonemarketing.com Circle of One Marketing 305-576-3790