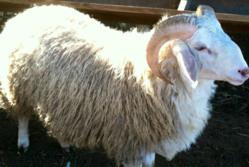 Our Awassi USA dairy sheep program will be a welcome enhancement to the dairy sheep industry in the United States - Andy Karras
(PRWEB) January 08, 2013
The Awassi Fat Tail dairy sheep is very hardy in nature, fully adapted to arid environments and considered to be one of the highest milk producing breeds in the Middle East. These sheep also have beautiful wool coats and are known for being resistant to many diseases and parasites that can affect other breeds. Karras Farm is now in year two of breeding the Awassi Fat Tail sheep in the United States with plans of rapidly expanding their Awassi sheep operation. Now that they have been able to import full blooded Awassi sheep, they are excited about the outlook for the future of this operation.
Karras Farm is a leader in the genetic breeding of dairy sheep and has become well known for producing some of the highest quality East Friesian sheep in the United States. This spring, Karras Farm will have the very first F1 Assaf sheep cross in the US. The Assaf sheep is a cross of Awassi sheep and East Friesian sheep with the F1 being a 50/50 first cross.
"This is exciting news for a quickly expanding sheep dairy industry in the United States. Awassi sheep genetics will enhance the growing demand for dairy sheep milk, cheese, meat and other byproducts." -Andy Karras, owner of Karras Farm.
About Karras Farm Inc.
Karras Farm is a fourth generation dairy sheep operation located in North Carolina. Our full blood Awassi sheep and F1 Assaf sheep operation is now fully implemented in the United States. In 1996 Andy Karras was one of select few dairy sheep farmers in the United States to obtain full blood East Friesian sheep imported from Canada. Karras Farm is focused on selective genetic breeding for optimal wool, milk, meat and physical characteristics. Please visit http://karrasfarm.com for additional information or call 704-778-2032.Karras Farm Videos