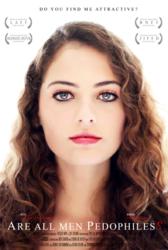 the Best Documentary of the Year - NVVS
Amsterdam (PRWEB) January 08, 2013
The Netherlands have once again shocked the world by announcing their winner of the Dutch Media Prize. The Dutch are known for their liberal views on sexuality which includes their controversial Pedophile political party.
A Dutch film director (Jan-Willem Breure) now claims that all men are pedophiles and the National Dutch Sexology Organization (NVVS) apparently agrees, awarding him the title of the Best Documentary of 2012.
The documentary film generated a lot of controversy; death-threats, legal-threats, protests, internet campaigns, petitions and the latest controversy; winning the Dutch Mediaprize.
Despite the shocking title, the documentary has a strong scientific bases. The film contains interviews with leading experts in neurobiology, psychology, sexology, fashion, ancient history and theology.
The documentary examines the global impact of pedophilia from a cultural and professional perspective. Stating that we live in a society that condemns pedophiles, though biological instinct and world cultures throughout history suggest that an attraction to teenagers is almost unavoidable. The fashion industry on the one hand sexualizes ever-younger girls while those who act on these instincts are reviled. The apparent confusion at the heart of society forced Jan-Willem Breure to ask the question: What do we mean when we talk about Pedophilia?
The film also explores the many dangers children face and exposes the systematic violation of children rights by societies and how the pedophilia hysteria has led to the mass incarceration of adults and children. It examines the increasing change in societies because of its sexualized youth and the question: Are All Men Pedophiles?
Are the critics right? Should the director withdraw his documentary and give a public apology or is there a reason why this is the best Documentary of 2012?
The documentary film is now available on DVD & Blu-ray at http://www.areallmenpedophiles.com
For more information about the film ' Are All Men Pedophiles?' or director Jan-Willem Breure please visit: http://www.areallmenpedophiles.com