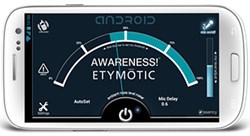 The app 'listens' to users' surroundings and allows users to mix outside sounds directly into their earphones at a level of their choice.
Elk Grove Village, IL (PRWEB) January 02, 2013
Etymotic Research, an innovator in hearing wellness solutions, today debuted Awareness!® Phone for Etymotic, an Android app for Etymotic's hf2-an and mc2-an noise-isolating headsets + earphones. The Awareness! Android app lets consumers experience the highest noise isolation and sound quality, and still be completely aware of their surroundings. Etymotic is releasing this app to coincide with the latest Android 4.1 "Jelly Bean" OS equipped smartphones like the hot Samsung S3, Motorola Droid RAZOR HD, HTC One X, and latest Nexus 4 Phone by Google.
Awareness!® Phone for Etymotic for Android is part of the AWARENESS!® for Etymotic app family and is designed to work with the latest Android (4.1+ OS Jelly Bean) smartphones. The app "listens" to users' surroundings and allows users to mix outside sounds directly into their earphones at a level of their choice.
"Until now, noise isolation meant tuning out," said Mark Karnes, managing director of consumer products at Etymotic. "When we launched AWARENESS!® for Apple devices last year, we brought programmable noise isolation to market for the first time, changing the way people listen to music. Now, we are able to bring that same experience to millions of Android 4.1 smartphone devices in time for the holiday season."
UK-based audio app specialist Essency Ltd. developed the popular Awareness!® for Etymotic app for Etymotic's hf3 and mc3 headsets+earphones, now upgraded for use with the latest Apple products: iPad, iPad Mini, iPhone 5 and the latest iPod touch.
To bring the same level of technology to the increasing number of Android phone users, Essency developed the new Android Awareness!® Phone for Etymotic app specifically for Android (4.1 Jelly Bean OS) smartphones. By putting control in the smartphone user's hands, this Android app allows listeners to change sound level settings and to hear the world around them as they work out in the gym, jog or ride a bike outdoors, watch TV or a movie while at the coffee shop, await a boarding call at the airport, or listen to a podcast while watching kids at the playground.
Current users of Etymotic earphones can check compatibility and register for an unlock code at http://www.etymotic.com/awareness. They can then download the Awareness! Etymotic Phone app via the Google Play app store. The app is expected to be available in the Amazon Google store prior to Christmas.
About Etymotic
Etymotic Research is leading the way through all of its company initiatives to educate, advocate, protect, enhance and provide enjoyment of the listening experience for all consumers. For more information about Etymotic, its hearing wellness mission and its products, please visit http://www.etymotic.com.
About Essency
Formed in 2009, UK developer Essency specializes in cutting-edge audio apps for mobile devices, designed to make headphone use safer & more convenient. Essency apps are available for all Apple iOS devices and now for Android. Versions for Windows Phone, Blackberry, PC and Mac will follow. Please visit http://www.essency.co.uk.
###