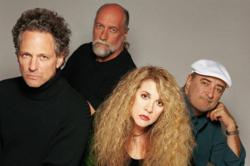 Denver, CO (PRWEB) January 03, 2013
It's hard to believe that it has been 45 years since Fleetwood Mac's first album, and 35 years since they band released their best-selling Rumours album, which has sold over 20 million copies in the U.S. to date.
But like other iconic 60's bands lately, Fleetwood Mac is heading back out on the road again. The group's 34-city North American tour kicks off April 4, 2013 in Columbus, Ohio. The tour stops in numerous cities including New York, Chicago, Boston, Las Vegas and Los Angeles. The trek's final concert is slated for June 12, 2013 in Detroit.
"Traffic for Fleetwood Mac tickets has been spiking," said Felina Martinez at online ticket marketplace BuyAnySeat.com. "Part of this surge of new traffic may be related to the Holiday season and gift giving, but we believe it's also due to the band's legions of loyal followers of all ages around the globe."
"Since Fleetwood Mac fans span all nationalities and age groups from pre-teens to those in their 70's and 80's, we're proud to be able to offer buyers a complete selection of Fleetwood Mac tickets, with a worry-free guarantee to protect their purchase," said Martinez.
"To access the continuously updated selection of tickets we have available, fans can go to BuyAnySeat.com and search for Fleetwood Mac – then select their tickets," said Martinez.
Fleetwood Mac is a British-American rock band formed in London in 1967 by Peter Green, who had been playing in the blues band John Mayall & the Bluesbreakers. He named the band in an attempt to entice Mick Fleetwood and John McVie to join him. While Fleetwood joined right away, McVie did not join for several weeks.
After years of member additions and departures, and tumultuous times within the band, Lindsey Buckingham and Stevie Nicks joined the group – and the band finally found mainstream success with the 1975 release of a second self-titled album. The album became the band's first number one album in any country and their first multiplatinum album. This newfound success was repeated two years later with Rumours, which has become their best selling album thus far.
The next two albums, Tusk and Mirage, were not as successful as Rumours, despite an 18-month worldwide promotional tour. The albums still reached number four and number one respectively, and both reached double-platinum status.
The album Tango in the Night was released in 1987 and became the band's best-selling album since Rumours, and ranked 3x platinum in the U.S. and 8x platinum in the U.K. The 90's decade was one of limited success for the band, with the two albums released either failing to chart very high in the U.S. The band's fortunes improved again with the release of the 1997 live album The Dance, which reached number one in the U.S. and 5x platinum status. The band also saw a modest success with 2003's Say You Will. (Sources: Official Website, fleetwoodmac.com and Wikipedia.com)
Both Stevie Nicks and Lindsey Buckingham released solo albums and toured last year. The band itself hasn't released an album since 2003, but did tour together in 2009. Insiders say Christine McVie unfortunately will not be joining the tour this time. But for fans, there's always hope.
To shop for Fleetwood Mac tickets, visit BuyAnySeat.com.
About BuyAnySeat.com: An online ticket marketplace, BuyAnySeat.com connects sports, theater and other live entertainment fans to an extensive worldwide network of ticket sellers. The site's simplified listings and navigational tools enable fans to easily locate, compare and purchase inexpensive, discounted or lower-priced tickets to virtually all advertised sports and entertainment events around the globe. The site, which is PCI-compliant and Norton Secured, also provides customers with a complete Worry-Free Guarantee on all ticket purchases. Based in Denver, Colorado, BuyAnySeat.com is a subsidiary of Denver Media Holdings. For more information, please visit http://buyanyseat.com.