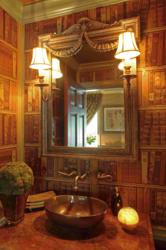 "The homeowner loved how enveloping the room feels," noted Wilson. "At first glance, you don't even realize what the room is."
Boston, MA (PRWEB) January 06, 2013
The Boston Globe Magazine recently featured interior design projects that were derived from an inspirational theme. Boston's award-winning interior design firm, Wilson Kelsey Design was highlighted for their renovation of a 1907 carriage house. The home was being designed in an Old World style with inspiration from a European palette. Off of the study, which was emanating the feel of an Old English Club, the decision was made to forego a shower in the bathroom to house mechanicals and recreate the space as a powder room. Sally Wilson, ASID keenly continued the 'club' theme from the study and designed a powder room that truly embraces the home's desire to be all things Continental. Working with Brunschwig & Fil's "Bibliotheque" wallpaper, Wilson added a rust Alhambra marble top for the vanity, complemented with a bronze waterspout, handles and vessel sink. Below the chair rail she selected faux ostrich wallpaper that resonates the appearance of a leather-bound book. A decorative painter was hired for a faux bois mahogany treatment on the original paint grade door and a camel-colored toilet blends famously into the wallpaper. "The homeowner loved how enveloping the room feels," noted Wilson. "At first glance, you don't even realize what the room is."
This carriage house is one of numerous projects that have become award-winning testaments to Wilson Kelsey Design's adeptness in creating exquisite interior spaces. Their firm has been published both locally and nationally and has received numerous regional and national awards including The Institute of Classical Architecture and Classical America New England's award for Best Residential Interior Design and Interior Renovation; American Society of Interior Designers (ASID) New England Design Excellence First Place Awards for a Residential Bath and a Residential Space, Dream Home Awards inclusive of a Gold Award for Best Kitchen Remodel, a Silver Award for Best Design of a Condo/Townhouse/Loft, and a Silver Award for Best Bathroom Remodel; a COTY Award for Best Kitchen over $150,000 presented by the National Association of the Remodeling Industry and Silver Prism Awards for Best Kitchen Remodel over $150,000 and Best Interior Design of a Living Area sponsored by the Builders Association of Greater Boston.
About Wilson Kelsey Design
Praised for creating elegant, yet genuinely livable homes, the husband/wife team of Sally Wilson, ASID and John Kelsey, CAPS continues to garner acclamations for their design talents. Based in the greater Boston area, the duo is unique in that they bridge the gap between architect and decorator. They share a strong technical background, including the ability to read and prepare architectural drawings. The former producer of This Old House referred to their work as "heavy-duty interior design." In organizing their firm, they have divided the labor between them into the "hard" and the "soft". John designs and details the hard – interior architectural detailing, cabinet design, lighting, interior construction drawings, construction field supervision, and consultant coordination. Sally initiates and implements project concepts inclusive of interior design, furniture, decorative lighting, antiques, fabrics, and color and finish selections. The homes they design are elegant and sophisticated but always with a sense of comfort and livability. With backgrounds in commercial and corporate design as well as private residences the team specializes in a variety of project types.
WILSON KELSEY DESIGN
Phone: (617) 292-3380
Website: http://www.wilsonkelseydesign.com
Blog: http://blog.wilsonkelseydesign.com