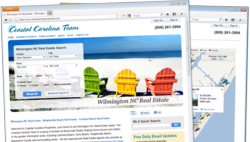 Real Geeks was a no brainer for me.
Kailua, HI (PRWEB) January 02, 2013
Real Geeks IDX websites are proven to work and there is no point in comparing their product to any other in the market because there's just no point of comparison. The guys at Real Geeks have cleverly integrated three tools into one platform that make the real estate online operation optimal for agents or brokers that wish to take their marketing to a whole new level.
By combining the best tools in Real Estate Websites, with your own Custom IDX Search, along with a top of the notch Lead Manager, Real Geeks offer the perfect formula to boost traffic, leads and sign ups. Real estate agents across the US & Canada are thrilled to have made a change in the way they were operating and searching for leads, giving clients a better opportunity to search in a wider range of options. The websites help drive traffic in a much better way and help close more deals.
The Real Estate Websites are clean and have a professional design, built specially to have high conversion rates and low bounce rates. Real Geeks IDX solutions have a very easy to use CMS in which agents can add content and blog posts to they're completely custom and not WordPress based. The user-friendly CMS also pulls in properties; which by the way are fully indexable, on any page for additional content. And if all of this isn't enough, the Websites are Search Engine friendly, have fully editable pages, and Google Analytics.
The Custom IDX Search will give great lead capture, which has been tested for highest conversion. Along with blazing fast search results, interactive map functionality and search and virtual property slideshows, Real Geeks IDX solution also delivers daily email alerts on new properties and price changes which give a great advantage over other IDX solutions and let agents and brokers be on top of their game.
The Lead Manager of Real Geeks offers agents and brokers exactly what they need for an optimal customer relationship management. First of all, the Real Geeks Lead Manager is easy enough for agents to use, but complete enough for the whole CRM operation. The Lead Manager offers lead capture and email notifications including follow ups and reminders, as well as Round Robin lead assignment for teams. Alongside with lead source tracking, lead activity functions and prioritize leads' motivation the Lead Manager helps agents and brokers with an advanced lead follow up feature so they can reach out when they're hot and using the site. They can also see all users activity such as properties viewed, favorite properties saved and search performed.
There are more great Real Geeks reviews each day, among them one of Real Geek's client Ron Holborn broker of RE/MAX North Orange County who says:
"We were lucky to get 15 sign ups monthly on the old solution, NOW we average 146 sign ups a month on Real Geeks Solution. My agents are able to see what the users are searching for, schedule follow ups, do advanced searches of their leads plus many other great things to stay in contact with them."
For Ron, this meant a 950% increase since converting to Real Geeks, not bad at all right?
Above all, the most attractive feature is the cost being so low in comparison to others who are extremely expensive and don't offer half of what Real Geeks IDX Solutions offers. You will be paying to use the best lead generator and management systems available out there. Tonya Graves, a real estate professional from Columbia SC Real Estate Sales shares her experience:
"I reached out to Real Geeks and found them to be super responsive and friendly. When they told me of the cost I was shocked! I could be up and running for a less than $200 a month with no required advertising budget. The decision to jump ship from Boomtown ROI and roll out my new website with Real Geeks was a no brainer for me."
For more information on the Real Geeks team and what they can do for you, I would recommend visiting their website. You can also contact them from their site, and one of the team members will be in touch with you very quickly.
About the Real Geeks Solutions and IDX Program:
Real Leads by Real Geeks is a full marketing solution that helps agents or brokers increase their online leads and sell more properties.
Real Geeks IDX websites are one of the best real estate lead generation platforms at a fraction of the cost compared to comparable solutions available. You get a fully integrated custom IDX and marketing solution to drive traffic, capture leads, manage-cultivate them and close more transactions.