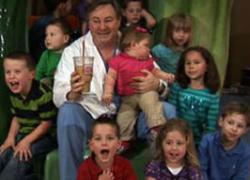 This play space is just another example of how this community comes together when they see a need.
Providence, R.I. (PRWEB) January 14, 2013
Located in Providence, RI, Hasbro Children's Hospital recently celebrated the grand opening of a colorful new play area in the pediatric ambulatory clinic for patients and their families. Sponsored by Dunkin' Donuts franchisees in the Providence, RI, area, the soft play area with a healthy lifestyle theme is tangible evidence of the community's passion for the well-being of its children, says Edens.
"Our hospital was built 18 years ago as the result of a vision that the community had," says the hospital's administrative director, Myra Edens. "This play space is just another example of how this community comes together when they see a need. In this case, having a fun, safe place to play while waiting for an appointment helps takes the stress and strain off children and their families. And Dunkin' Donuts as our sponsor filled that need for us. We are so grateful."
Todd Wallace, field marketing manager with Dunkin' Donuts, says that the company has long been a sponsor of events and fundraisers at the hospital, but the play area really galvanized support from Dunkin' Donuts franchisees and their patrons.
Franchise owners in the area agreed to hold an Iced Coffee Day during which they reduced prices on many iced coffee drinks and donated proceeds to Hasbro Children's Hospital. In one day, they raised more than $164,000.
"In markets like Providence, we have franchise owners who are very established and with that comes a responsibility to be involved in the community," says Wallace. "We're not that big, but we can make an impact. We have access to a large number of people every day and through coffee sales, we can get the entire community involved in this incredible hospital."
The inclusive play area was designed, manufactured and installed by PLAYTIME, LLC, the global provider of unique, interactive play areas and playground equipment for indoor, outdoor and water play.
Edens spoke to a representative from PLAYTIME at a conference after she saw their playground equipment at a mall in Knoxville, TN.
"I was amazed at what I saw," she says. "I saw families interacting with children in a special way. So often in this day and age, when kids are playing, parents are distracted with other things. With the play space, I saw parents playing with their children.
"I thought, 'This is pretty neat. I wonder if we could do this at the hospital,'" she says.
The new play area opened May 9, 2012, and both Wallace and Edens say it's been a big success.
"I've received nice emails from nurses and doctors," says Wallace. "I think it creates a more fun environment there. It's colorful and you can hear kids laughing. It feels less like a medical atmosphere and one where kids are just being kids."
Edens adds, "You cannot help but get a big smile on your face when you see the play area. We are absolutely thrilled to have it."
See a video about the play area by visiting: http://www.hasbrochildrenshospital.org/DunkinDonuts
PLAYTIME is the global provider of unique, interactive healthy play areas and playground equipment for indoor, outdoor and water play. The company's themed soft play areas drive traffic and enhance customers' brands. Thousands of families experience PLAYTIME every day at shopping centers, restaurants, airports, stadiums, childcare, healthcare centers, fitness centers, churches, resorts, recreation centers, water parks and museums – any place that kids play.