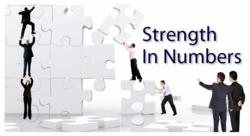 STRENGTH IN NUMBERS
(PRWEB) January 04, 2013
Workshop Participants at NACM CT and CCMA's Business Boot Camps Keeping It Real 2013 "Credit Boot Camp" will receive a Certificate of Completion and 3.75 CEU credits from NACM Connecticut, an affiliate of NACM. Students will work for 40 hours over a 5 day period, in which all materials, breaks and hot lunch meals are included. This program is packed full of real world hard and soft skills training for today's employers. This is a unique, one-of-a-kind workshop dedicated to Business 2 Business (B2B) and the Art & Science of B2B credit management skills with 15% discount offered to veterans and a volume group registration discount of 10% for ten or more participants. At the conclusion of the workshop, each graduate will be interviewed for employment with various national and local employment service companies.
CCMA has recently opened their participants to include all veterans, high school graduates, college graduates, displaced workers, workers with disabilities, and virtually everyone who may be looking for a new profession and/or career. CCMA was started in 2008 as a national educational/training organization of world class credit management professionals whose passion is the B2B credit management profession, and they offer an opportunity to everyone with a high school degree or GED (no college degree required) for a grass roots introduction to the hidden profession of B2B credit management. The educating/training workshop participants learn about credit, collections, AR management, accounting, customer service, accounts payable, finance, and become immediately employable. All workshop instructors are world class credit management professionals whose experiences cover most industries and 30 years in corporate America.
Download the workshop Agenda.
REGISTER HERE or learn more from our website.