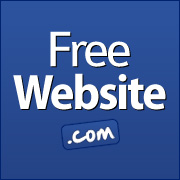 New York, NY (PRWEB) January 04, 2013
Technology news source BusinessInsider.com released an article highlighting the ten most expensive domain names sold last year – and FreeWebsite.com tied for third place with a sell price of $500,000.
"Our domain name was an investment in our brand," said a FreeWebsite.com representative. "Yes, it was expensive, but it was worth it. Our domain reflects our company mission to provide professional, customized websites that are easy to maintain and offer an exceptional user experience."
At $500,000, FreeWebsite.com was part of a four-way tie for the third most expensive domain name sold in 2012 according to Business Insider, sharing the spot with Jackpot.com, Challenge.com, and WebHosting.co.uk.
FreeWebsite.com provides users with customized websites for business or personal use, complete with relevant content and point-and-click website editor. The website provider offers a free-for-life website plan, as well as several premium plans that include additional features and services.
In addition to providing websites, FreeWebsite.com also offers website marketing services to help users increase their traffic, including social media marketing and SEO packages. FreeWebsite.com users also get access to complimentary website marketing guides and marketing credits for sites like Yahoo and Bing.
To read the Business Insider article, visit http://www.businessinsider.com/the-10-most-expensive-domain-names-of-2012-2012-12?op=1
About FreeWebsite.com: FreeWebsite.com breaks down barriers to website ownership by providing attractive, easy to maintain websites, complete with content, at a low price. To learn more, visit http://www.freewebsite.com.