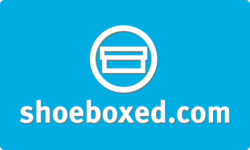 Saving on taxes begins with year-round preparation.
Durham, NC (PRWEB) January 08, 2013
Shoeboxed, the industry leader in cloud-based receipt scanning, has just released a new white paper: Five Proven Methods to Reduce Small Business Taxes. The Durham, N.C.-based company, which serves over a half million small business owners worldwide, teamed up with Stancil & Company, a local CPA firm, to ensure all of the content was both timely and accurate.
The white paper, which focuses on helping small business owners find effective ways to reduce their tax burden, explores five methods for increasing tax deductions and taking advantage of tax credits that are often overlooked by business owners during tax filing. The paper explores everything from taking advantage of daycare tax credits for children to developing a retirement plan that works in the business owners' best interest.
"At our CPA firm, we constantly hear the frustration of small business owners who know they are paying too much in taxes but are unsure of the most efficient methods to reduce this burden," said Scott Hensley, CPA. "Often, our discussion leads to a few simple solutions for tax deduction," he added.
Shoeboxed's white paper on reducing small business taxes is a free download and must-have item for any small business owner looking to save money on his or her tax return this year.
About Shoeboxed:
Since 2007 Shoeboxed has been the preferred small business expense tracking solution for over 500,000 users worldwide. The pioneers of cloud-based receipt scanning, Shoeboxed saves small business owners time, money and hassle by turning receipts into an organized, categorized, IRS-accepted archive of secure data.
Shoeboxed offers a fully functional free plan, as well as premium plans that include a prepaid mail-in service for physical receipts. Shoeboxed also accepts receipts via their free smartphone apps, through their free desktop uploader, or at receipts (at) shoeboxed (dot) com. Shoeboxed is based in Durham, North Carolina, and has growing offices in both San Francisco, California, and Sydney, Australia.
To learn more, please visit https://www.shoeboxed.com today.