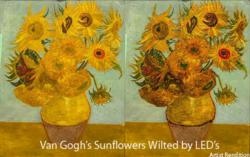 In a number of Van Gogh's paintings, the yellow has dulled to coffee brown — and in about 10 cases, the discoloration is serious
Rochester, NY (PRWEB) January 08, 2013
Investigators for years have known paintings by Van Gogh and Cezanne have been turning an olive green. According to an article published late last week by the Belgium paper, De Standaard, the cause has been found, "The yellow paint work of masters such as Van Gogh is affected by the LED lamps in museums."
The large amount of blue light routinely emitted by LEDs has been found to turn yellow paint used by Impressionist artists olive green and brown. This is causing many curators and museum directors to rethink their choices of re-lamping their museums. "In a number of Van Gogh's paintings, the yellow has dulled to coffee brown — and in about 10 cases, the discoloration is serious. We recommend museums to examine the yellow variety used in the masterpieces which they exhibit," says Professor Koen Janssens (UA), coordinator of the research project. "If necessary, they should light their museum differently."
The Musee d'Orsay in Paris, France, is home to the largest collection of French Impressionist Art. In 2009 the Musee d'Orsay, as part of a major renovation project, installed SoLux, a filtered source that simulates natural daylight.
According to Kevin McGuire, inventor of SoLux and president of Tailored Lighting Inc., "Museums like the d'Orsay that have specified SoLux for their collection can rest easy because SoLux contains many times less blue light than LED's. In fact, SoLux is safer on paintings than standard incandescent lights that have safely illuminated museums and galleries for over a hundred of years."
"Yes, we have LED lighting," says Bart Stroobants, curator of the Municipal Museum in Mechelen. "You know, it's a choice between the plague and cholera, or between one lamp and LED lamp." To which McGuire responds, "There is no need for curators and directors to think they are stuck in the Dark Ages when it comes to lighting art. The Renaissance in safe and optimal lighting of art began years ago with the introduction of SoLux. With the proper lighting, there is no reason why Van Gogh's Sunflowers should ever wilt away."
SoLux is a patented light source sold by Tailored Lighting Inc., Rochester, New York, 14624. SoLux provides an unparalleled replication of natural daylight. Use of SoLux in many of the world's top museums including the Van Gogh, Musee d'Orsay, and Guggenheim Museum is testament to its unmatched color quality and safety. SoLux also has eight times the life and twice the efficiency of standard incandescent sources, does not contain the mercury found in fluorescent lights sources, and is a fraction of the cost of LED sources. For more information visit http://www.solux.net or call (800-254-4487).