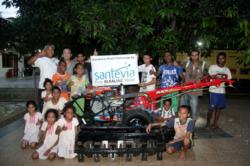 Self-sufficiency means they will always be taken care of. To me, that is the most important thing. — Yvonne Anderson
Delta, B.C. (PRWEB) January 09, 2013
"Give a man a fish, and you feed him for a day. Teach him how to fish, and feed him for life." This age-old adage is why Santevia Water Systems, based in B.C. Canada, recently donated $2,000 to the Roslin Orphanage in West Timor, Indonesia for the purchase of a rototiller plow so they can farm their own food.
"Self-sufficiency means they will always be taken care of. To me, that is the most important thing," said Santevia CEO Yvonne Anderson.
The donation is part of the Santevia Gives Back philanthropy program where 10 percent of profit goes towards projects revolving around providing food, shelter, education and clean drinking water to those less fortunate.
"What intrigued me about this project was the piece of equipment. Other aid agencies have gone in before and given them large gas tractors. The problem is that the machine would work for a year or two, but when it would break down, they couldn't repair it," said Anderson.
"This is a piece of hand-powered machinery that is simple but very practical."
About Roslin
Roslin Orphanage is located in West Timor, about 10 minutes from "Eltari Airport" in Kupang City. Opened by the Nusa Tenggara Timur province governor on March 6, 2002, Roslin orphanage helps shape their children's future by giving them as much education as possible. After the children are finished with their schooling, the orphanage will return them to their villages where they can share what they've learned with their community. Roslin Orphanage does not give their children up for adoption.
About Santevia
Santevia Water Systems Inc., located in Delta, B.C. Canada, manufactures and distributes water filtration and mineralization products creating alkaline water in convenient, eco-friendly and cost-effective ways. Santevia revitalizes tap water by adding essential minerals creating alkaline, pH balanced water helping your body combat disease and stay healthy. Santevia also donates 10% of all profits to the Santevia Gives Back program which supports projects providing food, shelter, education and clean drinking water to those less fortunate.