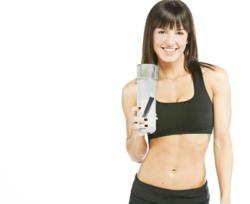 "We're thrilled to have an expert like Cassandra helping to educate people on the importance of alkaline water."
--Yvonne Anderson, CEO Santevia
Delta, B.C. (PRWEB) January 17, 2013
If there are two things fitness and health expert Cassandra Hope knows about, it's fitness and health. And on the January 16 episode of The MARILYN DENIS SHOW on CTV — Canada's number one lifestyle talk show with an audience of two million weekly — she shared her expertise, and discussed how Santevia and alkaline water fits into her daily routine.
Deemed one of her gym bag essentials, the combination of the Santevia Tritan Water Bottle and the Alkaline Water Stick provide pH balanced alkaline water on the go. Small enough to fit in a purse or pocket, the water stick contains all natural compounds such as tourmaline stone, minerals stones, far infrared and calcium ion. Placing the stick in a glass of water or water bottle increases the pH of normal tap water or bottled water to a pH 9+.
Hope has been a special guest on THE MARILYN DENIS SHOW multiple times and has previously presented on affordable workout equipment for the home and gym and also exercise tips. A professional fitness competitor with her own studio, she works with clients on achieving a healthy and enjoyable lifestyle.
About THE MARILYN DENIS SHOW
THE MARILYN DENIS SHOW is a daily entertainment and lifestyle talk show who has featured celebrities including Sir Elton John, Bradley Cooper, Shania Twain, Anderson Cooper, Donny & Marie Osmond and many more.
About Santevia
Santevia Water Systems Inc., located in Delta, B.C. Canada, manufactures and distributes water filtration and mineralization products creating alkaline water in convenient, eco-friendly and cost-effective ways. Santevia revitalizes tap water by adding essential minerals creating alkaline, pH balanced water helping your body combat disease and stay healthy. Santevia also donates 10% of all profits to the Santevia Gives Back program which supports projects providing food, shelter, education and clean drinking water to those less fortunate.