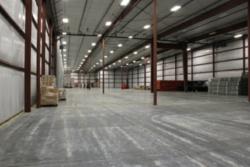 The past year has been particular busy for our US Cargo Control brand.
Urbana, IA (PRWEB) January 09, 2013
The completion of a new warehouse addition at e-commerce retailer Clickstop has tripled the space for its US Cargo Control brand, allowing the company to increase product offerings and keep more inventory on hand to better serve its customers.
Construction began in July at Clickstop's Blue Creek Drive headquarters in Urbana. Employees had moved into the new building's office space in March 2011 but continued growth fueled the need for even more warehouse space.
"The past year has been particularly busy for our US Cargo Control brand, as we've added new categories like tire chains, increased offerings in existing categories such as replacement tie down straps, and introduced a new line of premium straps – BlackLine straps," said CEO Tim Guenther. "We also created a blog for the USCC brand and developed a series of videos about the SBA 504 loan program which played a huge role in our expansion."
In February, US Cargo Control was also named a preferred vendor by national moving company, TWO MEN AND A TRUCK® which prompted the company's merchandising team to expand its moving supplies category even further and re-design some products to better meet the demands of professional movers.
The company also owns an additional building in Urbana that once served as headquarters before the new facility was constructed. That space now stores merchandise for several of the other 12 websites Clickstop owns and manages, including EcoFoil.com and SpaceSavers.com.
Guenther believes it's just a matter of time before the office portion of the building will be undergoing an expansion as well. Several new employees have joined the company in 2012 and the staff count now numbers more than 50.
"We've had some recent re-aligning of departments that has created a lot of opportunities for current employees," said Guenther. "We anticipate the changes will require more new hires to join us throughout 2013."
Clickstop's incredible growth has been recognized both locally and nationally in 2012. In May it was ranked by the Corridor Business Journal (CBJ) as the third fastest growing company in the Cedar Rapids/Iowa City Corridor with a revenue growth of 199% from 2009-2011.
In August the company was named to Inc. magazine's prestigious 500|5000 list of fastest-growing companies, ranking at #1156 overall. In addition, it noted that the company was the 56th fastest-growing retailer nationwide; and for the third consecutive year ranked #1 in growth for retailers in the state of Iowa.
About Clickstop, Inc.
Clickstop is the parent company of a suite of online retail stores based in Urbana, Iowa. Focused on offering relevant products, timely delivery, and excellent customer service, Clickstop web properties serve diverse markets that include the moving and cargo control industry, energy efficient insulation products, home organizing solutions, and personal fashion and styling. For more information visit clickstop.com.