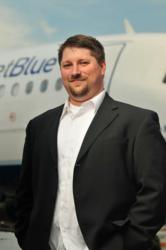 "do what is needed to build relationships, on the ground and in the air"
New York, NY (PRWEB) January 08, 2013
Mr. Morgan Johnston, JetBlue Airways, Communications Manager, to speak in Mexico City, Mexico, March 5th-6th, 2013. Mr. Johnston will talk about the challenges of engagement across company departments and the impact on customer relationships. Of specific interest, JetBlue Airways has been the winner of several awards in 2011, for Best Airline, Best Website Booking Experience and Most Customer Friendly Airline. Mr. Morgan had this to say about his presentation, "Customer engagement is a full time job that involves the entire organization, across all departments. My goal is to share our experiences, to ensure engagement across all channels, and do what is needed to build relationships, on the ground and in the air."
The 4th Global Contact Forum (4th GCF) is the fourth installment of the most successful global event in Latin America. Started in 2010, the Contact Forum serves as a knowledge hub for professionals in the customer service industry. Customer care executives, managers and supervisors gather here to discuss best practices, industry challenges, showcase new technologies, exchange ideas and share their knowledge.
The 4th GCF event promotes growth, competitiveness and professionalization of the contact center industry globally. In 2012, more than 1,800 contact center professionals and thought leaders, from over 22 countries gathered. The 2013 conference will focus on Customer Engagement – People, Connection and Technology. Companies represented at the Global ContactForum events have included major industry names like Amazon, Google, Avaya, PCCW, Aspect, Altitude, Autonomy, British Telecom, Infosys and Verizon.
"We are very glad to have Mr. Morgan and JetBlue Airways join our event. Given the state of the global economy, the rise of digital, mobile and social media, we believe that he will help us focus on the changing face of customer service, standards and satisfaction. Mexico City is one of the largest cities in the world and we've had great success holding these events here," said Ma. Eugenia Garcia Aguirre, Chair for the event.
The 4th Global ContactForum will take place at the Camino Real Hotel in Polanco, Mexico City; an award-winning hotel and conference center. The website for the event outlines all of the details: http://www.globalcontactforum.com. Members of recognized Industry Associations benefit from with a special discount of 15%, by using code cf561m.