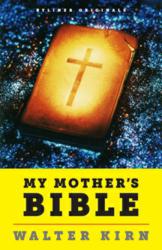 No one mines his own life in the service of understanding the American experience better than Walter Kirn. —The New York Times' The 6th Floor blog
San Francisco, CA (PRWEB) January 08, 2013
"It's commonly said that if people understood the difficulties and heartbreaks of having children, they might not do it," writes Walter Kirn in "My Mother's Bible" ($1.99), just released by Byliner, the acclaimed e-shorts publisher. "This seems to be true of God as well. Parenthood was not what he expected."
"My Mother's Bible" is a comic, heartbreaking, and refreshingly insightful memoir of Kirn's late, beloved mother, as told through the notes she made in her Bible. Millie Kirn's spunk and love of literature helped shape her son, one of America's most admired novelists and cultural critics. She was a retired nurse and voracious reader who "held conventional wisdom in disdain, delighted in seeing hypocrisy exposed, arrogance leveled, and complacency shaken." After she died unexpectedly of a rare infection in her brain, Kirn was sorting through her effects when he came across a King James Study Bible. In his grief, hoping to commune with his mother's spirit, he opened the volume and discovered a glorious profusion of notes in his mother's familiar handwriting. "Much ado about curtains," she wrote in a typically tart assessment of a passage from Exodus laying out the rules for priestly dress and temple adornment.
Inspired by his mother's brash, iconoclastic annotations and following them across the biblical landscape like crumbs, Walter Kirn set about rereading the Old Testament for the first time since he was a child. He sees its familiar heroes—Abraham, Noah, Moses, and Joseph—in a fresh, often comic light. "The Bible is a drama concerned with drama itself, its origins, its nature, and its ends," he writes. "Maybe Creation's purpose is just that: to stir up a fuss and banish God's perfect boredom. My mother once told me that her life was flat before I came along—not bad, just flat. And how was it afterwards? 'Very busy,' she said."
"My Mother's Bible" is a profound reevaluation of God's nature as embodied in the Old Testament, shaped by a son's and mother's enduring love for reading and for each other.
About the Author: Walter Kirn is a novelist, essayist, and critic living in Livingston, Montana. He is the author of "Up in the Air", "Thumbsucker", and "Lost in the Meritocracy", among other books. He is the national correspondent for "The New Republic" and is at work on "Blood Will Out", a memoir of his ten-year friendship with the impostor and accused murderer who went by the name Clark Rockefeller.
About Byliner: Byliner commissions and publishes original stories written to be read in two hours or less. These "e-short" stories are available on phone, tablet, or computer as part of the Byliner subscription service, and can also be purchased individually through digital bookstores such as Amazon, Apple's iBookstore, Barnes & Noble, Kobo, and Google Play. Bestselling Byliner titles include Amy Tan's "Rules for Virgins", Margaret Atwood's "Positron", Jon Krakauer's "Three Cups of Deceit", Ann Patchett's "The Getaway Car", Nick Hornby's "Everyone's Reading Bastard", and Buzz Bissinger's "After Friday Night Lights". On Byliner.com, readers get personalized access to an unmatched library of more than 20,000 fiction and nonfiction stories by the world's best writers, allowing them to easily find, read, save, and share new and classic stories by their favorite authors.
"My Mother's Bible" is available for $1.99 as a Kindle Single at Amazon, a Quick Read at Apple's iBookstore, a Nook Snap at BarnesAndNoble.com, a Short Read at Kobo, and at Google Play. For an Advance Reading Copy or to schedule an interview with Walter Kirn, please contact Clare Hertel at clare(at)byliner(dot)com; 505-474-6783.