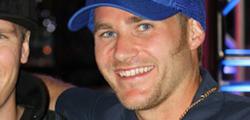 The biggest way that [FOX] contributes to my success is by having the trickest, lightweight shocks available that I use in my prosthetic knee and foot—along with the fact that they build the best handling and most adjustable suspension ever.
Scotts Valley, CA (PRWEB) January 08, 2013
FOX, the industry leader in ride dynamics, announced today that it has signed a sponsorship deal with adaptive snowmobile and motocross athlete Mike Schultz through 2015. Schultz adds yet another top name to the FOX family that is stacked with a roster of world-class athletes piloting motorcycles, mountain bikes, snowmobiles, trophy trucks, ATVs, and UTVs.
Racing motocross since 1997 and snocross since 1998, Mike was in the midst of a promising professional snocross career when he suffered a devastating accident. While competing in a qualifying race in the Pro Super Stock class of the 2008 AMSOIL Championship Snocross event, Mike's snowmobile drifted sideways as he jumped over a mogul. When he came out of the jump he landed on his left leg, his knee "virtually exploding." After undergoing multiple emergency surgeries in the hospital, doctors decided that amputating his left leg above the knee was the only way to save Mike's life.
FOX GETS MIKE BACK IN THE GAME
Mike recalls, "After the accident, my immediate thought was, 'I won't be able to do anything anymore.'" But rather than resign himself to missing out on the active lifestyle he loved, Mike decided to do something about it. Quickly growing frustrated with the limitations of his "everyday" prosthetic, Mike started designing his own prosthetic leg using FOX mountain bike suspension to provide his prosthetic knee and foot with a flexible suspension system that provided spring return. He connected with FOX and was invited to use the facilities at the FOX Midwest campus in Baxter, Minnesota, to cut and machine his prosthetic leg, which he dubbed the "Moto Knee."
In July of 2009, a mere seven months after suffering the accident that led to the amputation of his leg, Mike was named a Silver medalist in Adaptive Motocross at the Extremity Games. Mike went on to win a Silver in Adaptive Super-X at the ESPN Summer X Games later that year, and in 2010 made history as the first person to ever win Winter X gold (SMB SnoCross Adaptive) and X Games gold (MTX Super X Adaptive) in different sports in the same year. Mike also took home Gold medals from the ESPN Winter X games and Extremity Games in 2011.
But motocross and snocross aren't the only things that have been keeping Mike busy. Since his accident, Mike has been an active participant in the American 300 Warrior Tours, where he's been able to bring a message of hope and resiliency to wounded soldiers. In addition, Mike has continued refining his Moto Knee, earning a patent for it in 2011 and starting Biodapt, Inc. to make his Moto Knee commercially available to other amputees.
RELATIONSHIP WITH FOX GOES BEYOND 'TRADITIONAL' SPONSORSHIP
"FOX has been redefining ride dynamics for over 30 years, and our team of passionate enthusiasts and pro athletes share a singular goal: to design and manufacture products that allow people to pursue their passions to the fullest," said Dan S. Robbins, Corporate Marketing Manager at FOX. "Mike is the true epitome of how passion can make anything possible. Words can't describe the respect we have for him or the pride we take in knowing that he is part of the FOX family."
"I know firsthand the way that FOX supports their athletes, because they've been there for me since the beginning. I know that I can count on them," said Mike. "The biggest way that they contribute to my success is by having the trickest, lightweight shocks available that I use in my prosthetic knee and foot—along with the fact that they build the best handling and most adjustable suspension ever. I'm a huge fan of FOX, and I'm honored to be officially joining the FOX team with them as my title sponsor."
ABOUT FOX
FOX redefines ride dynamics for ATVs, mountain bikes, motocross, off-road vehicles, snowmobiles, trucks and UTVs. In 1974, Bob Fox redefined the world of motocross suspension with the FOX AirShox, and for more than three decades, FOX's team of enthusiasts and professional athletes have been uniquely committed to redefining ride dynamics that improve your performance. Headquartered in Scotts Valley, Calif., FOX's main manufacturing operations are in Watsonville, Calif., its off-road division and manufacturing are in Santee, Calif., and its Midwest Service Center is in Baxter, Minn. FOX distributes its products in more than 40 countries.
FOX is a registered trademark of FOX. All other brands, product names, company names, trademarks and service marks are the properties of their respective owners. All rights reserved.
###