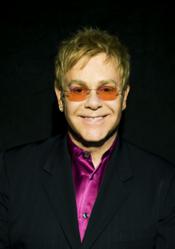 "I'm constantly astonished by the inventive skills and versatility of the Yamaha team," said Elton John.
Buena Park, Calif. (PRWEB) January 08, 2013
Elton John, the marquee performer of our generation, will join Yamaha in celebrating its 125th anniversary by participating in an historic concert for its dealers on Friday, January 25, 2013 at Disneyland's Hyperion Theater in Anaheim, California.
Thanks to Yamaha's groundbreaking DisklavierTV™, powered by RemoteLive™ technology, Elton's performance on the Yamaha Disklavier reproducing piano onstage with a 70-piece orchestra will be streamed live over the Internet and simultaneously to remote Disklaviers in many countries around the world. His actual piano keystrokes are then faithfully recreated, note for note, in real time on each of the remote instruments, while the entire orchestra is seen and heard on adjacent monitors, in perfect sync with the remote piano performances. The locations of the remote performance venues will be announced shortly.
"Elton John is one of the most successful and influential music makers of our time, and Yamaha is thrilled to bring him to a global audience in this history making manner," said Chris Gero, vice president of Yamaha Entertainment Group of America, which is producing the event. "This exciting event will also demonstrate how Yamaha DisklavierTV is forever changing the way in which a live piano concert can be enjoyed in real time around the world."
Speaking of the newly-announced concert, Elton said: "I'm constantly astonished by the inventive skills and versatility of the Yamaha team. Not only have they built all my touring pianos for the past 20 years, as well as the wonderful Million Dollar Piano that resides at Caesars Palace, but they've also now perfected the RemoteLive technology, which means that effectively, I can perform the concert live in Anaheim on January 25, live across the Internet and also live in venues worldwide–all at the same time! I am both proud and grateful to be a Yamaha artist and to enjoy the fruits of Yamaha's amazing expertise."
Longtime Yamaha artist Elton John (http://www.eltonjohn.com) has produced a consistent string of chart-topping albums and singles dating from his emergence in 1971 with "Your Song." Working in frequent and famous collaboration with lyricist Bernie Taupin, he has released such legendary hits as "Rocket Man," "Tiny Dancer," "Saturday Night's Alright for Fighting," "Goodbye Yellow Brick Road," "Daniel," "Crocodile Rock," "I'm Still Standing," "Don't Let The Sun Go Down On Me", "The Bitch Is Back," "Philadelphia Freedom" and "Bennie and the Jets." His 1997 reworking of the 1973 hit "Candle in the Wind" as a tribute to the late Diana, Princess of Wales, sold over 33,000,000 copies worldwide and was heard by an estimated global television audience of two billion people.
Since his live career began in 1970, Elton has played over 3,600 concerts worldwide. In 1992, he created the Elton John AIDS Foundation, and in February 1998, he was knighted by Queen Elizabeth II.
More recently, Elton collaborated with Yamaha on The Red Piano Tour that originated in 2004 at The Colosseum at Caesars Palace in Las Vegas. In 2011, he returned to Caesars Palace with a new show, The Million Dollar Piano, named after a stunning, one-of-a-kind instrument made exclusively for him by Yamaha.
Legendary bass player Nathan East will serve as music director for the anniversary concert event, while acclaimed composer James Newton Howard will conduct the 70-piece orchestra.
During 2013 Elton will be looking both back, with celebrations to mark the 40th anniversary of the release of the Goodbye Yellow Brick Road album, and forward, with the release of a brand new studio album. He will continue to tour across the world with his band, and in April will return to Caesars Palace for another season of the fabulous Million Dollar Piano show. A DVD of that show is also being produced for 2013 release.
About Yamaha
Yamaha Corporation of America (YCA) is one of the largest subsidiaries of Yamaha Corporation, Japan and offers a full line of award-winning musical instruments, sound reinforcement and home entertainment products to the U.S. market. Products include: Yamaha acoustic, digital and hybrid pianos, portable keyboards, guitars, acoustic and electronic drums, band and orchestral instruments, marching percussion products, synthesizers, professional digital and analog audio equipment, Steinberg recording products and Nexo commercial audio products, as well as AV receivers, amplifiers, Blu-ray/CD players, iPod docking systems, home-theater-in-a-box systems, earphones, headphones, sound bars, and its exclusive line of Digital Sound Projectors. YCA markets innovative, finely crafted technology and entertainment products and musical instruments targeted to the hobbyist, education, worship, professional music, installation and consumer markets.
About Yamaha Entertainment Group
Yamaha Entertainment Group is a boutique, one-stop shop, record label developed to be the champion of the musician with the backing power of the largest music manufacturer in the world. Yamaha Entertainment Group is branding, promotion, concert production, content development, product placement, tour support, piano logistics and artist relations, all rolled into one. Home to more than 3,600 talented artists, Yamaha Entertainment Group is responsible for the development and advancement of the Yamaha brand name through numerous artist related activities worldwide.