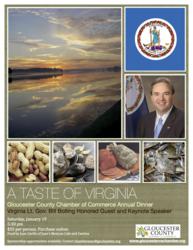 Gloucester, Va. (PRWEB) January 07, 2013
Virginia Lt. Gov. Bill Bolling will serve as the keynote speaker for the Gloucester County Chamber of Commerce's Annual "Taste of Virginia" Dinner Saturday, Jan. 19.
The annual dinner, a celebration of Chamber members' accomplishments in 2012, will be held at the Abington Ruritan Club on Guinea Road in Bena. Cocktail hour starts at 5:30 p.m. Bolling is expected to address the membership at 7:30 p.m.
The event, sponsored in part by Dominion Virginia Power, is $35 per person and is open to Chamber of Commerce members.
Register online at http://www.glocuestervachamber.org. Only 150 tickets are available.
In addition to Bolling's keynote address, the annual dinner includes recognition of the Chamber's 2012 Board of Directors and a recap of 2012 events and partnerships.
Juan Carillo of Juan's Mexican Café and Cantina is catering, with a menu that fits the Virginia theme of the evening and ranges from York River raw oysters and Gloucestermen's Stew to salads with peanut vinaigrette and smoked pork belly with Shenandoah Valley apple gastrique.
Interested in sponsoring the annual event? Sponsorship opportunities remain from $1,500 to $250. Sponsors receive, depending on the level of support, tickets to the dinner, listing in program and other event marketing materials.
For more information or questions, contact Makalia Records, Executive Director, at chamberexec@glochamber.org or 804.693.2425.
ABOUT VIRGINIA LT. GOV. BILL BOLLING:
During his 21 years in elected office on the Hanover County Board of Supervisors, as a member of the Virginia State Senate and as Lieutenant Governor, Bill Bolling developed a record of working with Republicans and Democrats to find positive, conservative solutions to the challenges Virginians face.
As Governor Bob McDonnell's Chief Jobs Creation Officer and the first Lieutenant Governor to serve in the Governor's Cabinet, Bolling oversaw Virginia's economic development efforts and worked to create a more pro-business environment in Virginia. In the past two years, McDonnell and Bolling made more than $100 million in investments to proven job creation programs, including needed tax cuts and incentives for job creating businesses.
As a result, more than 135,800 net new jobs were created in Virginia. Over the past two and a half years, Virginia's unemployment rate decreased by 19 percent and Virginia has been named among the best states in America to do business.
In addition, Bolling has worked with McDonnell to restore fiscal integrity to state government. They cut spending, reformed government and opposed tax increases on Virginia families and businesses.
When they took office in 2010, they faced a $6 billion budget shortfall. Virginia now has reported back-to-back budget surpluses totaling nearly $1 billion, enabling the state to make investments programs like transportation and higher education.
During this year's General Assembly session, Bolling cast the tie-breaking vote to organize the State Senate with a Republican majority, thus passing conservative legislation that provided educational choice to low-income children through tuition tax credits, protected Virginia's right-to-work law by eliminating union preferences in state contracts, increased the integrity of elections and strengthened personal property rights.