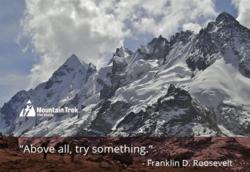 depth of experience offered by this adventure trek fits perfectly with the transformative work of the company
(PRWEB) January 14, 2013
Adventure vacations aren't just for muscular mountain men who are willing to lie on the cold hard ground any longer. Many intrepid travellers head away from home to explore the world, often on guided vacations that take the guesswork out of finding meals and accommodations for the night. Some adventure tours combine the experience of splendid landscapes and natural beauty with luxurious evenings where comfort is assured. This opens up incredible experiences to normal people.
This spring, Mountain Trek will take two groups of guests to Peru in late March and early April, to hike the Sacred Valley and Machu Picchu. Four star accommodations will ground each day of exploration. The depth of experience offered by this hiking adventure vacation fits perfectly with the transformative work of the company, which aims to help people realize their fitness and weight loss goals.
As a goal to work towards and a lense through which to see the rest of one's life experience, adventure travel has the potential to deeply transform our lives. People return changed, opened and appreciative for all that they have, and all that human beings have achieved. They can incorporate new habits into their routines that have lasting positive effects.
Creating Transformation
Like adventure of the past, travel offers an opportunity for transformation. Immersion in a new place, the sights smells and sounds of a different landscape help people to reflect on what "normal" really means. The ability to see people who live in a fundamentally different way from ourselves today, plus to see the ancient evidence of their culture, acts as a lense that focuses a new light on one's own home and assumptions.
This shift in perspective can be the foundation for lasting personal change. Getting ready for the journey involves physical preparation, and afterwards assumptions and habits are overturned. An adventure vacation can be a doorway to a new lifestyle.
Accessing the Amazing
For many years we've had access to the images of incredible places but it's another thing to experience them in person. For decades, National Geographic has implanted gorgeous photos in our minds; today trekking companies can take guests to the places they've always dreamed of.
Ancient ruins in combination with spectacular landscapes are especially powerful and have attracted travelers for centuries. The Parthenon, the Pyramids and Machu Picchu all are highlights of anyone's list of lifetime travel experiences. Being present in these places conveys the deep feeling of our human connection to place and our past.
Supporting Experience
Despite the yearning many people have to see the amazing places of the world, it can be intimidating to head off alone into an unfamiliar landscape. Guided experiences, like the travel adventure vacations offered by Mountain Trek Health and Fitness Retreats, make the decision easy. Guests know the skill of the guides, and feel safe to meet the physical challenges of exploring far from home. The days are full of physical activity, but there's no worry about where to find a lovely dinner or where to sleep in comfort.
Vacation Packages
Both luxury Peruvian hiking vacation packages are 11 nights and are all inclusive for $5,900 USD (tax included) per person. This does not include flights to Lima or from Cusco but includes transportation to and from the airport. The first package starts on March 28th with arrival in Lima and ends on April 8th in Cusco. The second package starts on April 5th in Lima and ends on April 16th in Cusco.