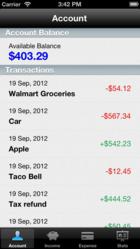 Free personal finance app enabling users to easily manage and track their finances
Dallas, TX (PRWEB) January 15, 2013
SafariMobile today announced that their first finance mobile application, MoneyTrack, is available exclusively for iPhone, iPad, and iPod touch devices. MoneyTrack is an extremely simple application to use for keeping track of all your finances in one account.
MoneyTrack allows the users to easily manage and track their finances by enabling the users to be in complete control of their money, thus reducing the risk of over-drafting and incurring unnecessary charges.
MoneyTrack allows the user to input their incomes and expenses, saving them in the cloud or locally (user choice). When saved in the cloud, it auto syncs through the user's iOS devices. Each income and expense has a name, amount, and a category. The category is used to classify the transactions. Income, expense, and account balance transactions are displayed in an animated table row format. User can either edit or delete any transaction. Interactive pie and line charts are included to visualize the status of the user's incomes, expenses, and account balance.
MoneyTrack is now available for free from Apple's App Store for iPhone, iPad, and iPod touch.
Please visit http://safarimobile12.wix.com/moneytrack for more MoneyTrack information, including videos and screenshots of the app and http://safarimobile12.wix.com/safarimobile for more information.
SafariMobile is an independent iOS Development Company based out of Dallas, United States, was formed in 2012 by Reza Safari for the purpose of creating easy, useful, and user friendly interface apps.
For further information please contact:
Reza Safari
Phone: 512-508-5295
Email: safarimobile12(at)gmail(dot)com