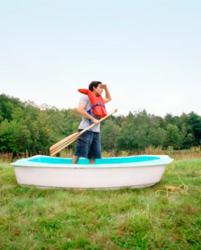 No need to spend big money on Valentine's travel. Just get creative!
(PRWEB) January 10, 2013
According to the National Institute of Health, a higher than average percentage of people experience depression during the Christmas period, with one North American survey reporting that 45% of respondents dreaded the festive season. While some patients report getting depressed at Christmas time because of its excessive commercialization and its increased emphasis on gift-giving, thereby putting pressure to incur more debt, others get depressed as the festive seasons triggers excessive self-reflection, leading to an obsession over what one has or hasn't achieved during the previous year. With the increasing pressures of Valentine's Day looming, Explore My World Travel's Victoria Ugarte encourages travelers to consider inexpensive Nearcations as a Valentine's Day alternative.
A relatively new term which refers to vacationing to a location relatively close to home, but just far enough away so that one feels they can relax and decompress, the key to a Nearcation is to keep costs low without sacrificing the experience.
Author and travel writer, Ugarte says,"It's ironic that supposedly the most romantic time of the year, Valentine's Day, falls at a time when everyone's funds and energies are depleted from the festive season, putting relationships under more pressure. It is for this reason that I recommend inexpensive Nearcations for Valentine's Day."
Ugarte offers some cost cutting Nearcation suggestions:
Consider Driving Holidays: While there is more 'brag' value in exotic overseas destinations, travelers may want to consider destinations closer to home, perhaps in a neighboring state. The countryside, mountains or coastline make ideal getaway spots.
Check Out Bargains Via On-line Booking Sites: Technically, a destination that's under two hour's travel time away from home can qualify as a Nearcation. The cost savings in domestic flights, accommodation, and tour packages have never looked so good since the recession. If choosing to fly for your Nearcation, it's advisable to book way in advance in order to take advantage of attractive rates and packages. It's important to be flexible with dates, carriers and choices of accommodation.
Consider Less Expensive Accommodation: From pensiones and hostales to Bed and Breakfasts, serviced apartments, and vacation rental by owners, smaller properties offer a substantial saving on accommodation and provide a more authentic travel experience.
Take Shorter Breaks More Frequently: New research suggests that a number of short trips leave people happier than one long one, proving that less is more. Nearcations offer travelers the opportunity to recharge their batteries more often without incurring large travel expenses.
Ugarte adds, "Romance is a state of mind. One can have an equally romantic Valentine's on a caravan in the soft curve of a tranquil lagoon, enjoying the fresh air and sunshine during the day and savoring a delicious candlelit dinner under the stars at night. No need to spend big money on Valentine's travel. Just get creative!"
Victoria Ugarte, Author, Corporate Culture and Travel Specialist, is becoming known around the world as one of the most recognized faces of travel and culturally correct behavior. She spends 3 months out of every year traveling the world, keeping her readers posted on exciting destinations, latest travel tips, and inspiring them to Explore, Discover, Live. Based in Sydney, Australia, Victoria has authored several books with Amazon, including "Culture Savvy for Women." You can find Victoria, wherever she is in the world, by going to http://www.ExploreMyWorldTravel.com.
Victoria also offers her readers a Free eBook, entitled "How To Enrich Your Life Through Travel." Get your free eBook now: http://www.ExploreMyWorldTravel.com/bonus-download/