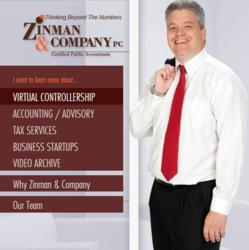 Companies need to be ware of what was NOT covered in the legislation...
Southampton, PA (PRWEB) January 15, 2013
Zinman & Company PC, a top CPA firm, announces the addition of a new service to their Virtual Controllership Services (VCS) for small businesses who are concerned about the impact of recent "Fiscal Cliff" tax changes. New and current clients can now receive a Safety Net Checklist driven analysis designed to enhance their tax strategies, maintain compliance and reduce potential risk to their bottom line as the result of recent changes to the tax law.
The VCS Safety Net Checklist covers the impact of all basic provisions in the new law for individuals and small businesses including new top tax rates, phase-out of itemized and personal exemptions, capital gains and dividends tax increases, and changes to the alternative minimum tax, estate and gift taxes to mention some of the most prominent features.
In addition to advising clients on changes due to the recent Fiscal Cliff negotiations, Mark Zinman, Managing Partner at Zinman & Company, explains that "companies also need to be aware of what was NOT covered in the legislation, including the Medicare surcharge, expiration of the temporary reduction in social security tax and being prepared for the potential of future limitations on itemized deductions. As part of your Safety Net Checklist we will cover and explain the impact of the current legislation and also help you prepare for future likely legislative scenarios."
The Safety Net Checklist service will be offered to all new clients for no additional charge through April 15, 2013 as part of Zinman & Company's Virtual Controllership Service (VCS). Business owners seeking to replace in-house accounting and compliance functions with Virtual Controllership Services can request a no obligation cost-benefit analysis that can quickly illustrate how Zinman & Company's Virtual Controllership Services can reduce cost and provide better support than traditional in-house or other hourly-based accounting services.
To learn more about how your company can benefit from the Safety Net Checklist and to learn more about Virtual Controllership Services visit http://www.zinmanandcompany.com or email Mark Zinman, CPA, Marnaging Partner at info(at)ZinmanAndCompany(dot)com.
About Zinman & Company: Zinman & Company PC is a top accounting and CPA firm with a highly experienced team of accounting and tax professionals serving individuals and businesses with trustworthy accounting, compliance, tax and business advisory services. For more than 20 years Zinman and Company has been helping non-profits and businesses in a variety of industries including Medical, Biotech, Real Estate, Manufacturing, Transportation and Distribution, Automotive, Construction, Food Services, Restuarant, Daycare, Wholesale, Retail and other businesses including new startups, heavy industrial machine operators and others.
Zinman & Company's Services include accounting, bookkeeping, audit & assurance, tax planning & tax return preparation, compliance, business advisory, business startup and its flagship Virtual Controllership Services (VCS) that offload the administrative accounting burden and can lower costs for many businesses. Zinman's VCS offer companies a one-stop accounting and business advisory solution. Mark Zinman is a Certified Public Accountant (CPA), a Certified Information Technology Professional (CITP), and Zinman & Company's Managing Partner. Zinman & Company serves businesses and individuals in Philadelphia PA, Montgomery County PA, Bucks County PA, Delaware and all New Jersey. For additional information, please contact Mark Zinman at info(at)thecpa(dot)com or by phone at 215-357-2250.