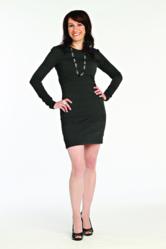 When I look back at how much weight I lost, I can't believe how simple it was.
Fort Washington, PA (PRWEB) January 16, 2013
Nutrisystem reveals their latest weight loss success story. Jeni Miller grappled with serious health problems and later with fertility issues, causing her self-esteem to suffer and a serious depression ensued. According to Miller, "I felt lost and didn't recognize who I was any longer."
Miller knew she could either take control or stay lost in her feelings of despair. "There came a moment when I decided I could either curl up into a ball of depression forever or turn my life around and make a change for myself for the better," says Miller.
Miller decided to take control and re-invent herself. She signed up for Nutrisystem and began regular workouts. As the weight came off – over 90 pounds* on Nutrisystem – Miller began to feel more like her old self again. "I started to see the weight coming off and began to feel my confidence returning," she says. "When I look back at how much weight I lost, I can't believe how simple it was."
Nutrisystem, which is based on 40 years of nutrition research and the science of the low glycemic index, offers a variety of great tasting, satisfying, good carbohydrate meals (over 150 menu options) that are designed to be heart healthy.
For Miller, the Nutrisystem® plan "made it so easy to lose the weight in a healthy way, that I never felt hungry, in fact I couldn't believe how much food I was supposed to eat." Miller also found the Nutrisystem website helpful in her effort to shed weight. The tracking tools and the advice and encouragement of the Nutrisystem community all played a part in helping her stay focused on her goals.
With her new found confidence, Miller decided to follow a long-time passion and take up acting. The 46-year old has done several acting projects and claims: "I'm better now that I've ever been!"
Nutrisystem® programs appeal to a wide-range of people interested in losing weight for a variety of reasons -- people like Dr. Michael Haney, a physician who understood the need to lose weight to become a better role model for his family and patients; Nick Gaudio, a 30-year old whose weight gain left him feeling depressed; Tara Primis, a mother of two whose weight had grown to 276 pounds and was looking for a vegetarian program to guide her through weight loss; Mara Hall who chose Nutrisystem D to help her lose weight to better manage her diabetes.
*Results not typical.
On Nutrisystem, you can expect to lose at least 1-2 lbs. per week. Individuals are remunerated. Weight lost on prior Nutrisystem® program.
To view additional Nutrisystem success stories like the Jeni's, and for more information on the Nutrisystem® SUCCESS® program and to order today, please visit http://www.nutrisystem.com/success4u or call 1-888-841-2572.
About Nutrisystem
Having helped Americans lose millions of pounds over the last 40 years, Nutrisystem, Inc. (NASDAQ: NTRI) develops evidence-based programs for healthy weight management, and is the leading provider of home-delivered weight loss meal plans. Nutrisystem offers balanced nutrition in the form of low glycemic index meal plans designed for men and women, including seniors, vegetarians and the Nutrisystem® D® program for people with diabetes or at risk for type 2 diabetes. Nutrisystem® plans include a wide variety of pantry and frozen entrees and snacks to aid in program satisfaction and adherence, as well as transition plans to support long-term success. The Fort Washington, PA-based company also provides weight management support and counseling by trained weight-loss coaches and registered dietitians, as well as through an engaged online community, online tools and trackers, mobile apps, cookbooks and more. Healthcare professionals may learn more about the programs by visiting http://www.nutrisystem.com/hcp. The Company has also introduced a new in-store retail line, Nutrisystem® Everyday® products, comprised of nutritionally balanced bars, smoothies, bakery and breakfast items aimed at consumers who aspire to eat healthier.