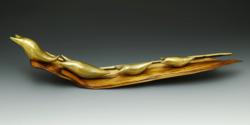 I love the freedom of creating something brand-new and unique, and the challenge of exploring new techniques and concepts
Mesa, Arizona (PRWEB) January 14, 2013
The year 2012, having started out slowly, ended up being the most successful year so far for metalsmith Steve Shelby. The crowning glory was learning that he had been awarded the top prize at the 34th Annual Contemporary Crafts exhibition at the Mesa Contemporary Arts Museum, which opens January 25, 2013. Judged by Jennifer Scanlan, Associate Curator at the Museum of Arts and Design (MAD) in New York City, the show features fine craft by artists from across the United States. Shelby has two pieces in the show, Frog Bowl, and Pod, winning a cash prize for Pod, and the grand prize, a solo exhibition in the MCA Museum Project Room during the 35th Annual Contemporary Crafts exhibition in January 2014. "I was really taken by surprise", Mr. Shelby says, "when I enter these shows, I never know if my work will even get accepted, let alone win a prize. This is the first time I have won anything like this. I almost didn't enter, since I already had my best newer work committed to other shows, but this show allowed older work to be submitted. Sometimes things just work out." The other shows his works are in at this time are the 9th Annual Regional Exhibition at Artlink Contemporary Gallery in Fort Wayne, IN, and Craft Forms 2012 at the Wayne Art Center in Wayne, PA. Shelby plans to make the trip to Mesa for the opening reception, saying "as the grand prize winner, I think it's really important to be there. I also hope to get to meet some of my metalsmithing Facebook friends who live out there".
Much of Steve Shelby's time is spent making pet urns, sold online by Alex in Welderlands Custom Pet Urns, http://www.custompeturns.com, and in the last couple years, making seasonal ornaments for Artful Home, http://www.artfulhome.com. His real love, though, is making one-of-a-kind pieces suitable for entering in exhibitions. "I love the freedom of creating something brand-new and unique, and the challenge of exploring new techniques and concepts", he says. "I also enjoy the feeling of affirmation when a piece I have poured my heart and soul into gets accepted into an exhibition." All of his work starts out as a flat sheet of brass, copper, bronze, or silver, and is hammered into totally three-dimensional forms. "I don't like leaving anything flat or straight, it's just not interesting to me", he says, and a look at his collection of work at shelbyvision.com will attest to that. What does the future hold for Steve Shelby? "I want to continue doing what I'm doing, but also exploring some new areas, like really big things, and kinetic sculptures and automatons. The biggest limiting factor is having enough time. My main goal is to enjoy what I'm doing and to get some recognition, and right now it looks like I'm on the right track."
Steve Shelby has been doing business on the internet as Shelbyvision since 2003. His metal art can be seen at http://www.shelbyvision.com, and the most up-to-date information and images can be found on his Facebook page, http://www.facebook.com/Shelbyvision. His pet urns are sold exclusively through custompeturns.com.