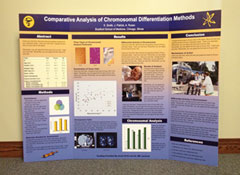 Simply upload your 3:4 aspect ratio poster file to our website and we'll do the rest.
Tinley Park, IL (PRWEB) January 15, 2013
Tri-Fold presentation poster boards are a long-standing fixture of research conference, trade shows, and business presentations across the country. Now students, researchers, and business professionals can have their own custom professional-grade Tri-Fold presentation posters created with just a few clicks of the mouse.
At just $109.95 (plus shipping), MakeSigns.com Tri-Fold poster boards are competitively priced, carefully packaged, and quickly delivered anywhere in America.
The Tri-Fold display measures 36 inches high by 48 inches wide. Each side 'flap' measures 12 inches wide, and the center section measures 24 inches wide. While typical resin coated glossy poster paper can turn into slime when it gets wet, our Microporous paper is water resistant, leaving the presenter with one less thing to worry about. Graphicsland worked with packaging designers from Chicago's Field Packaging Group to construct a custom shipping box designed to minimize damage.
"Our poster boards come with a semi-gloss finish that gives them the professional look and feel you'd expect in a tri-fold presentation board. Simply upload your 3:4 aspect ratio poster file to our website and we'll do the rest." said Jerry Feil, Graphicsland Inc. President.
To order your Tri-Fold poster, or to learn about this service we offer, or to see pricing details, visit our website at: http://www.makesigns.com/SciPosters_Home.aspx
About Graphicsland, Inc. - With over 35 years experience, Graphicsland strives to become the industry leader for online custom designed research poster printing, POP short term signage, and bumper stickers through their Makestickers.com, Makepins.com, and MakeSigns.com websites.