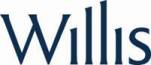 New York (PRWEB) January 14, 2013
Willis Group Holdings (NYSE:WSH), the global insurance broker, announced today the appointment of David Martin as Chairman and CEO of its UK retail business, effective 21January, subject to FSA approval. The appointment of Martin to the senior post completes the restructure of Willis International's leadership under International CEO Tim Wright.
Martin joins Willis UK from Zurich Insurance Group, where he led global sales and distribution for Zurich's $33 billion general insurance business. Martin's roles prior to joining Zurich include 16 years with AON, where he was Managing Director of UK Corporate, and positions at Bank of America and Cigna (now ACE).
At Willis, Martin will report to Tim Wright and lead a business comprising 1,100 Associates in 22 offices across the UK. Martin will also have a secondary reporting line to Steve Hearn, Deputy CEO, Willis Group and CEO Willis Limited (the UK regulated entity). Tim Wright and Steve Hearn have directed Martin, as he comes on-board, to drive greater connectivity between Willis UK Retail and Willis Global, the specialist business arm of the Willis Group, both of which are headquartered in London.
Commenting on Martin's appointment, Wright said, "David's extensive knowledge of commercial insurance markets in the UK and his wider global experience makes him the ideal candidate to accelerate future sales growth within our UK retail business. We recognize that there is a significant opportunity to drive synergies between our UK retail and global specialty business, and David will have a special focus on matching UK client needs with Willis' world-class specialty expertise."
Martin said, "I am delighted to become part of the Willis team building on the successes of recent years. I look forward to working with old and new friends, and helping them succeed in a very competitive marketplace."
Willis International comprises the Group's retail businesses outside North America, consisting of over 6,000 Associates in more than 100 offices in over 42 countries, generating revenues of over $1 billion in Latin America, Europe, Middle East & Africa, Asia and Australasia.
About Willis
Willis Group Holdings plc is a leading global insurance broker. Through its subsidiaries, Willis develops and delivers professional insurance, reinsurance, risk management, financial and human resource consulting and actuarial services to corporations, public entities and institutions around the world. Willis has more than 400 offices in nearly 120 countries, with a global team of approximately 17,000 employees serving clients in virtually every part of the world. Additional information on Willis may be found at http://www.willis.com.
# # #