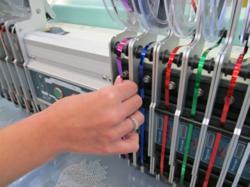 Coldesi's new Pro Spangle Machine!
Tampa Florida (PRWEB) January 16, 2013
ColDesi is proud to announce the latest addition to its line of apparel decorating equipment.
The ProSpangle! ProSpangle is a commercial quality Hotfix spangle machine that represents a real breakthrough in technology that can have a huge impact on your business. ProSpangle will be debuted at the ISS Show in Long Beach, CA. on January 18th.
"Spangles", Hotfix spangles specifically, are made from the same material as sequins, but with several important differences.
1.No Holes – sequins are designed to be sewn on, so there is always a hole in the middle that breaks up your design. Spangles give you just that much more shine and impact with every pattern.
2.Heat applied – spangles are truly "Hotfix", meaning they have heat activated adhesive an every one, just like rhinestones. So no sewing or embroidery necessary. It works just like a rhinestone transfer
3.Long Lasting – because there are no threads, there's nothing to get cut or damaged when worn or in the wash. The Hotfix adhesive binds to the fabric giving your designs many years of life.
Since the ProSpangle produces a "transfer" just like a rhinestone transfer it's simple to store and to ship. Since you're cutting shapes out of continuous ribbons of material, the end result is much less expensive than a comparable rhinestone transfer as well.
More Important Information:
Speed: 600 to 800 spangles per minute
Sizes: 2mm to 9mm perfectly circular spangles – that's three times the size of an SS10 rhinestone.
Software: The ProSpangle comes with Hoftix Era from Sierra, an easy to use but very powerful application that will also run your professional embroidery machine, plotter/cutter or CAMS Automatic Rhinestone Machine.
Spangle designs have zero lead content and a very soft hand, so their perfect for children's wear too!
For more information on the ProSpangle visit the website: http://www.prospangle.com/, then call us at: 1-877-793-3278 to learn more about adding Spangles to your business.