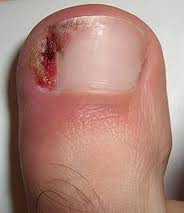 There are several people who wait far too long to have the procedure and they have more complications
(PRWEB) January 14, 2013
Most of the time people do not think that an ingrown toe nail will get in the way of their profession, for one person it did. Victoria Azaranka who is the world's No. 1 tennis player was sidelined due to an ingrown toe nail in her right big toe. The toe nail had become ingrown and made it so painful she had to sit out of a match against Serena Williams a former world's No. 1 women's tennis player. The cause behind the ingrown toe nail is a surprise, a bad pedicure.
Dr. Marc Blatstein, Podiatrist knows how a bad pedicure can cause an ingrown toe nail. He said if the toe nail is cut and left with rigid edges then those can splinter off and puncture the skin. Then the toenail acts as a foreign body it causes an infection, that infection then causes swelling and pain. Sometimes it hurts so much that walking can even be taxing on the individual.
According to Azarenka the toe had been infected for about 10 days and was worsening. So she had to have a procedure done removing the piece of nail that was causing the infection.
Dr. Marc Blatstein, Podiatrist also told us that the longer the toe nail infection (or paronychia) lasts the worse and more painful it becomes. The splinter part of the toe nail will continue grow & push into the toe like a splinter and cause infection to worsen. If people waited for even ten days for the procedure it gives the toe nail ample time to grow deep in the toe.
"There are several people who wait far too long to have the procedure and they have more complications," said Dr. Marc Blatstein, Podiatrist. "If they wait too long physicians may have to treat the infection before they can do the procedure so they can get the numbing medicines to work properly during the procedure.
Unfortunately this is something that can happen, and most Podiatrist will tell their patients that when they do trim toe nails to make sure they are smoothed. And if you do see any infection or swelling, make sure to report it to a physician. And most important when getting pedicures, make sure that the place is clean Ask them if they sterilize their instruments & sanitize their whirlpools. Should at any point you feel concerned, the sooner you get professional treatment the sooner you'll get back into what you love to do.