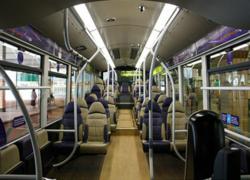 For the bed bug treatment though, the website asserted that the best product the mentioned driver and anyone else could use is an organic-based bed bug spray.
New York, NY (PRWEB) January 15, 2013
Bed bug infestation, even in a bus, could be prevented. That was proven true by one bus driver in Mount Vernon, Ohio based on a report from mountvernonnews.com. And wanting to help any other person who could be bugged by the vampire-like pests, Bed Bug Removal Guide advised the use of the organic-based Bed Bug Bully.
According to the said report, one bus in Mount Vernon was almost infested by bed bugs. However, thanks to the quick response of its driver, the infestation was prevented.
Particularly, it was said that the driver overheard one of his passengers talking about having bed bugs in his home. Because of that, he quickly brought the bus back to the Knox Area Transit headquarters. The bus was then fumigated and put out of service for three days to ensure that it's clear from the pests.
However, apart from buses, Bed Bug Removal Guide said that because bed bugs are small and sneaky, they could make a home anywhere. And so it said everyone should open their eyes with any sign of bed bugs and be keen with anything that could lead to their infestation. It stated that to do so helps prevent a massive bed bug infestation as it prompts an early bed bug treatment.
But sneaky as the bed bugs are, the site stated that they could come back and start another infestation. And so, it said that it's best for the public to always have a bed bug product - specifically, an organic-based bed bug spray. It said that the product offers a safe and effective bed bug elimination, which is how the treatment should be.
But of all the green bed bug sprays, Bed Bug Removal Guide only recommended Bed Bug Bully to house owners, cleaning contractors, hotel managers and anyone else that could be infested by the pests. And to prove that it is truly effective and safe, the site urged the public to try a sample of it.
Bed Bug Removal Guide said that a sample of Bed Bug Bully is available at MyCleaningProducts.com.