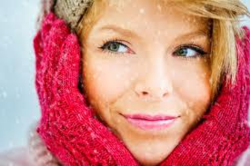 Read the content label on moisturizers, soaps, and other skincare products. Consumers should be mindful of using products that contain chemicals, which can irritate or cause allergic reactions in dry skin.
Rhinebeck, NY (PRWEB) January 14, 2013
Cold, whipping winds combined with winter's lower humidity deprive skin of its moisture, making it dry, itchy, and uncomfortable. In severe cases, skin can get so dry it results in flaking, cracking and even eczema.
Lou Paradise, president and chief of research at Topical BioMedics, makers of Topricin Pain Relief and Healing Cream, says consumers should be mindful of using products that contain chemicals, which can irritate or cause allergic reactions in dry skin. He suggests that changing a few hygiene habits and selecting natural products can help alleviate the pain from dry skin, and offers the following tips to make winter-dry skin smooth and supple.
-Drink lots of water. Keeping hydrated helps plump skin up and makes it healthier.
-Choose gentle, natural moisturizers. Common ingredients found in many commercial moisturizers include contain petrolatum and silicone, which are not ideal for skin, can cause skin irritation or allergic reactions in some people, and can exacerbate dryness over time, as well as allowing your skin to absorb their irritating and potentially toxic ingredients. Look for moisturizing ingredients like aloe vera, cocoa butter and oatmeal.
-Skip harsh soaps. The soap you're using—even if it says 'gentle' on the package—might be leaching your skin of its lipids. All-natural, oiled-based cleansers like castile soap are a better choice for dry skin.
-Shower in warm water. Long, hot showers and baths are tempting when the temperatures drop, but hot water is hard on your skin and strips it of its natural oils. Use warm water, keep the shower/bathing time short, and close the bathroom door to retain moisturizing humidity in the room.
-Don't rub! After bathing or showering, quickly and gently pat the skin partially dry with a towel.
-Lock in the moisture. Within three minutes of getting out of the after apply a moisturizer to seal the water in the skin so it stays hydrated longer. (Topricin is an excellent moisturizer and can be applied many times a day as needed with no fear of overuse or interference with medication.)
-Exfoliate regularly. Help your body shed the dead skin cells that can build up visibly when your skin is dry. Use a loofah or body scrub made with coarse ingredients to buff your skin so it becomes soft and smooth.
-Use a humidifier. Increase the humidity level of air of your home and workplaces, if possible and consider adding a humidifier to the central heating system of your home. (If you use a portable humidifier, make sure to use it in your bedroom at night)
-Don't forget to use sunscreen. It is just as easy to get sunburn in February as it is in July. Slater on a natural sunscreen and you'll prevent damage and dryness.
-Apply Topricin to keep skin revitalized. Safe, natural Topricin soothes the skin, moisturizes, and provides vibrancy and energy to the skin while giving your winter skin care regimen a boost.
Topricin contains highly purified water, plus coconut oil, which is a fabulous emollient for skin and provides natural, healthy moisture The synergy of its 11 natural medicines work together help to achieve overall health and vitality to the skin by naturally helping the body to detoxify and stimulate blood flow to increase and enhance oxygenation of the skin.
Other key active ingredients in Topricin include: arnica for injuries and bruising, Echinacea to help reduce inflammation, heloderma for relief from burning sensation in the hands or feet and graphites for most skin conditions. But it's the synergy of the natural biomedicines working together that make Topricin the ideal formula for taking care of winter skin.
Topricin brings soothing relief to uncomfortable dryness of the skin on the face, hands and feet and provides rapid healing and relief for symptoms associated with:
-Rosacea
-Eczema
-Psoriasis
-Calluses and dry flaky heels
-Dry, cracked skin
-Sun and wind burn
For fast relief, simply apply Topricin to the affected area and massage in until absorbed.
Information about Topricin can be found in the 2012 Physician's Desk Reference (PDR).
About Topical BioMedics
Topical BioMedics is the research and development leader in topical regulated natural biomedicines for pain relief. The company's flagship product, Topricin® Pain Relief and Healing Cream, was introduced in 1994 and is now a leading natural therapeutic brand. A combination homeopathic formula, Topricin has been awarded a patent for the topical treatment of pain associated with fibromyalgia and neuropathy.
All Topricin products are made in the U.S.A., formulated with approved medicines as found in the HPUS (Homeopathic Pharmacopoeia of the United States) and are in compliance with federal rules for homeopathic over-the-counter medicines. Safe for diabetics and pregnant and nursing women, the products contain: no parabens, petroleum or harsh chemicals, are odorless, greaseless and non-irritating, and produce no known side effects. For more information visit http://www.topricin.com.
Topricin is available in pharmacies, natural food stores, and other fine retailers nationwide, including Whole Foods, Vitamin Shoppe, Vitamin World, Fred Meyer, Wegmans, and other retail stores throughout the U.S., as well as direct from the Topical BioMedics' online store.
SOURCES:
Web MD
Northwestern Memorial Hospital
Skin Care Physicians
About.com
Topical BioMedics, Inc.