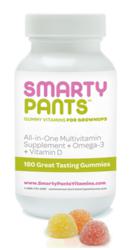 Los Angeles, Ca. (PRWEB) January 15, 2013
Research studies have long shown the critical relationship between good nutrition and both mental and physical sharpness. For millions of on-the-go adults struggling to cope in a stress-filled world, supplements have offered an appealing insurance policy for good health, but only for those with the time, money and discipline to stick to complicated regimens, including horse pills and endless choices.
SmartyPants Vitamins, a California nutritional supplement company best known for its effective all in one gummy vitamins for kids, is introducing SmartyPants Gummy Vitamins for Grown Ups to put baseline health in the reach of more people. As the first and only gummy vitamin supplement for adults that combines a full multivitamin with Omega 3s and Vitamin D, SmartyPants makes taking the daily RDI of vitamins a delicious treat.
Today's busy adults want a tasty, trusted, and easy way to get all the vitamins they need in just one daily dose of essential nutrients - nutrients that are hard to get from diet alone safely. They want a vitamin that they won't loathe taking. Oprah magazine called SmartyPants gummies for adults "the good for you gum drop." SmartyPants' nutritional gummies are made with premium quality, natural and organic eco-friendly ingredients.
"SmartyPants for Grown Ups were created when customers started confessing that they were taking their kids' SmartyPants," said Courtney Nichols Gould, Co-CEO and Co-Founder of SmartyPants. "Parents who saw their kids starting to take their vitamins more consistently and with less resistance wanted an adult strength high quality supplement of their own. As adults, our lifestyle, the decrease in nutrient density of the soil, sunscreen, and shortage of free time all conspire to make getting our nutritional bases covered on a consistent basis very challenging. SmartyPants Gummy Vitamins for Grown Ups is the only premium quality, delicious all in one organic gummy multivitamin with Omega 3s and vitamin D.
Packed with 900 IU of Vitamin D and filled with nine other key nutrients, SmartyPants provides an excellent daily source of Omega 3s DHA and EPA (essential fatty acids) from environmentally friendly small fish. SmartyPants uses fish oil sourced from sustainable small fish and uses no tuna or salmon oil, fish that run a higher risk of mercury or PCB contamination. Each bottle contains an excellent source of the more bio available form of key nutrients like B12 from methylcobalamin (vs. the often used and cheaper cynocabalamin), D3 from lanolin, not fish, as well as natural Vitamin E.
GMP-certified and FDA-compliant, each batch of SmartyPants is tested for purity by an independent testing laboratory. Made only with natural colors, flavors, and organic sweeteners, there's no high fructose corn syrup, no dyes or artificial flavors, and SmartyPants gummy vitamins are both gluten and casein free.
Naturally flavored in delectable cherry, orange and lemon, they are topped with only seven and a half grams of certified organic cane sugar per serving (6 gummies), less than if these nutrients were taken as stand-alone nutrients in gummy form.
Nichols Gould pointed out SmartyPants' mission to help not only their own customers, but kids everywhere who need, but can't afford the nutrients so critical for their development. "SmartyPants set a goal to make a one-for-one matching nutrient grant to children in need and expecting mothers both in the U.S. and abroad, to help them get the start in life everyone deserves."
Endorsed by leading healthcare providers across the country, SmartyPants Gummy Vitamins for Grown Ups are available online at http://www.smartypantsvitamins.com. The website contains a wealth of information about SmartyPants and nutrition.
# # #
EDITOR'S NOTE: To speak with Courtney Nichols Gould, Co-CEO and Co-Founder of SmartyPants, or to obtain more information about SmartyPants Gummy Vitamins, please contact Nancy Trent or Pamela Wadler at (212) 966-0024.