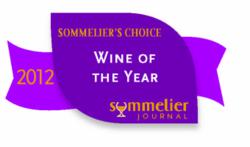 Opening up the nominations to our professional subscribers made the process more democratic than you see in other 'wine of the year' lists.
Boulder, CO (PRWEB) January 15, 2013
The 2010 Borsao Garnacha Tres Picos from Campo de Borja, Spain, was named the 2012 Sommelier's Choice by Sommelier Journal following an extensive nominating and blind-tasting process. The 2011 Cantine Colosi Sicilia Bianco from Italy was the top white wine, and seven other wines won individual categories during the tasting (full list of winners below).
Since 2009, Sommelier Journal has published an annual Sommelier's Choice listing of the most memorable releases tasted that year, as selected by Sommelier Journal's editors and regular writers, along with other leading wine professionals. This year, the magazine opened up the nominating process to its professional subscribers, in addition to the experts consulted in previous years. Each was allowed to select one wine, the only restrictions being that it must have been available on the U.S. market in 2012 and that it could not be represented commercially by the nominator. After this process, which was conducted by e-mail in October, there were 76 nominees. The Hot Picks selected by Sommelier Journal editors during 2012 were then added, making a final total of 159 wines eligible for Sommelier's Choice.
Producers and importers were asked to submit two bottles of each nominated wine for judging (in case one bottle was flawed), along with a small processing fee. Some of the wines were no longer available, and some producers declined to enter. Sommelier Journal received 27 white wines, two rosés, and 34 reds, which were divided into nine categories on the basis of variety and origin. The wines were judged at the Rudd Center for Professional Wine Studies on the Culinary Institute of America at Greystone campus in St. Helena, Calif., by nine members of Sommelier Journal's editorial board. Each category was tasted blind, the judges independently ranked the wines in order of preference for that flight, and the final ranking was determined by a weighted scoring system.
"Once we decided we wanted to expand our Sommelier's Choice concept into naming wines of the year, we knew we had to do it Sommelier Journal-style," said editor David Vogels, CWP. "We don't do points, so a simple ranked-order system weighted toward finishing higher made sense. And opening up the nominations to our professional subscribers made the process more democratic than you see in other 'wine of the year' lists. As with the Academy Awards, just being nominated should be viewed as an honor." The complete list of nominees is published in the Jan. 15, 2013, issue of Sommelier Journal,
Complete list of winners:
Aromatic Whites: 2011 J. Hofstätter Pinot Grigio, Alto Adige
Rieslings and Loire Whites: 2007 True & Daring Riesling, Nelson, New Zealand
Rhône and Mediterranean Whites: 2011 Cantine Colosi Sicilia Bianco, Italy
Chardonnays: 2010 Sandhi Chardonnay Sanford & Benedict, Sta. Rita Hills, California
Rosés: 2011 Ameztoi Getariako Txakolina Rosé Rubentis, País Vasco, Spain
Pinot Noir-Based Reds: 2010 Couloir Straight Line Wine Pinot Noir, Anderson Valley, California
Mediterranean Reds: 2010 Borsao Garnacha Tres Picos, Campo de Borja, Spain
Rhône and Southern French Reds: 2009 Kingston Family Vineyards Syrah Lucero, Casablanca Valley, Chile
Bordeaux Reds: 2007 Moraga Estate Red, Bel Air, California
2012 Sommelier's Choice: 2010 Borsao Garnacha Tres Picos, Campo de Borja, Spain
2012 Sommelier's Choice White: 2011 Cantine Colosi Sicilia Bianco, Italy
The tasting was also sponsored by Hess Family Estates and the Napa Valley Vintners. Sommelier Journal is published eight times a year by a Denver-based company with more than 40 years of experience in the magazine industry. Anyone interested in starting a subscription for as little as $29 a year can do so at http://www.sommelierjournal.com.