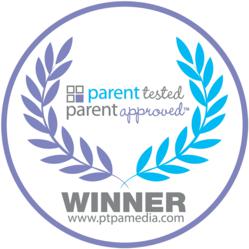 It's easy to know the right choice was made when you see the PTPA Seal of Approval on a products packaging
Toronto, Ontario (PRWEB) January 15, 2013
The New Year gives us all a fresh start and a chance to make the year ahead something spectacular! Resolutions to lose the love handles and make more money seem to be topping everyone's charts but what about resolving to spend more wisely? Choosing an award-winning product or service is always a good choice to ensure money is spent in the right place. Whether looking for a tween spa like Glamma Gals or a Newborn Favorites Gift Set by Noodle & Boo, it's easy to know the right choice was made when the product or service is displaying the PTPA Seal of Approval!
PTPA Media has North America's largest testing community – a credible third party resource for consumers with over 60,000 volunteer testers.
"Seeing the PTPA Winner's Seal on a product package or website helps consumers identify products that have been tested and recommended by other consumers. It's like shopping with one's best friend," says PTPA Founder and CEO, Sharon Vinderine.
Since 2008, PTPA has evaluated thousands of products and services from leading manufacturers and emerging brands. Because independent parents evaluate these products in their own homes, PTPA winners are chosen based on merit and consumer experience – not on commercial considerations.
PTPA Media is a recognized source by the media for credible and reliable recommendations for their audiences. Recognized TV personality, PTPA Founder and CEO Sharon Vinderine has presented PTPA Award winners on over 80 morning shows including the Rachael Ray Show, Fox and Friends, Canada AM and Global and is the newest contributor on Headline News on Raising America premiering in February.
Here are just a few of the innovative new products to receive the PTPA Winner's Seal of Approval for their most recent 2013 campaign:
Kobo Arc: Prepare to be impressed with this tablet's speed, sound, clarity, color and more. Read, watch a movie, listen to music, play, and more. It's the ultimate tablet!
Rogers Tech Essentials: This program gives Canadians the tools they need to make smarter and safer use of technology. The website is a free educational resource for all!
Delta Pilar Kitchen Faucet with Touch2O Technology: Operates manually or with the touch of a wrist when hands are messy! The perfect kitchen companion for busy families!
The Honest Company: Conveniently shipped to doorsteps, all products are the highest quality, all-natural organic ingredients. From cleaners to diapers they have it all!
Sifteo Cubes: An interactive gaming system like no other! Perfect for families or playing solo. The cubes sense each other and work together! Each cube is packed with tech fun!
Squoosh by Kids Gourmet: Helps picky kids 3+ enjoy healthy snacking! Each pouch has one full serving of organic fruits and veggies: no added sugar or salt, are kosher, and are nut-free and gluten-free.
Also among this list of recent winners are: Dapper Snappers that help a child's pants stay on without an uncomfortable belt. Parents raved about Lansinoh's products: HPA Lanolin nipple cream that soothed and relieved, the mOmma Spill Proof Cup that's truly spill-proof, and their mOmma Bottle with Natural Wave Nipple that has such important features for baby's mouth. When shopping for a car seat cover to provide shade and protection from the elements, The Shade by Imagine Baby is a great choice. Sippy Grab customizable labels are ideal for sippy cups by Kidaroo Crew! Bundle up baby with baby parka's Push or Carry Winter Kit which keeps baby warm and cozy when being held and in their carrier.
For a complete list of award winners, visit the Winter 2013 section on their newly updated website.
About PTPA Media Inc.
PTPA Media provides an objective framework for appraising and promoting new products designed to enrich family living. The company's mission is to marry innovative companies with discerning consumers, to improve consumer access to quality products and services for their families and homes.