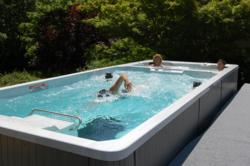 [Endless Pools] believes in what Swim Across America is doing
(PRWEB) January 16, 2013
Endless Pools and Swim Across America (SAA) made waves to combat cancer in 2012, in the form of a Sweepstakes to fund cancer research, prevention and treatment.
With a simple donation, contributors were automatically entered to win either an Endless Pools® Swim Spa or tickets and hotel accommodation for two to Hawaii. After a 9-month long contest, the initiative was able to contribute to the over $40 million already raised by SAA over the past 26 years.
Rachel Delp emerged as the winner of the sweepstakes from hundreds of entries, and chose the Endless Pool Swim Spa as her prize, which is valued at over $30,000.
She plans to put the pool to good use for home aquatic therapy and water exercise.
"I am thrilled to finally be able to swim in my own home! Being diagnosed with fibromyalgia last year, this comes as a true blessing and I look forward to the improvement of the quality of my life," said Delp.
As Swim Across America completed its 25th year of fundraising in 2012, Endless Pools enters its own 25th Anniversary Celebration in 2013. The partnership was a natural one.
"Our company believes in what Swim Across America is doing and we hope that future generations are able to realize the benefits of the important research they are contributing to," said Endless Pools CEO and founder, James Murdock. "We are thrilled to have had the opportunity to make a difference in the lives of those diagnosed with cancer."
The money raised by the 'Endlessly Generous' Sweepstakes will be directly donated by SAA to several prestigious cancer research beneficiaries around the country.
While the initiative brought great publicity and much-needed funding to cancer research, learning how to swim can have myriad health benefits for anyone. Endless Pools provide an excellent home option for young and old to exercise daily.
ABOUT SWIM ACROSS AMERICA:
Swim Across America, Inc., [SAA] is dedicated to raising money and awareness for cancer research, prevention and treatment through swimming- related events. With the help of hundreds of volunteers nationwide and past and current Olympians, SAA is helping find a cure for cancer through athleticism, community outreach and direct service.
For more information, go to http://www.swimacrossamerica.org/
ABOUT ENDLESS POOLS:
Endless Pools, established in 1988, has served over 20,000 customers in over 80 countries, and offers compact, customizable pools for indoor or outdoor use. With a series of six innovative products and an adjustable, revolutionary swim current, the product can be tailored for exercise, competitive training, or family fun. Rigorously tested for safety, low-maintenance and environmentally friendly, Endless Pools has a product to meet virtually any need.
For more information, visit http://www.endlesspools.com or contact Rob Shaeffer at 610-497-8676.